Dec 27th 2022
The most effective ways to decrease your lap time.
---
The high-performance American V-twin scene is quickly making its way to racetracks around the United States and destroying the dreams of sportbike geeks in the process.
While the MotoAmerica King of the Baggers and Bagger Racing League may be the pinnacle of American V-twin racing, track days are being increasingly overwhelmed with Harley baggers.
That said, it doesn't take a highly sophisticated and ridiculously expensive race machine to have a blast nailing apexes. Simple and affordable upgrades like a Harley Bagger kit help unlock better performance out of your Bagger without breaking the bank. Besides, we're all here to have some fun.
Below is a list of the most simplistic yet effective upgrades to your American V-twin for shredding tires at the next local track day.
---
1. Motorcycle Ergonomics: Better control and more ground clearance
---
Riding position is absolutely critical at the racetrack and the first thing that needs adjustment before decking your V-twin toward an apex. Don't believe us? Take a look at the superhuman athletes of MotoGP and World Superbike competition.
First on the list when setting up a new motorcycle is dialing in ergonomics.
Why? The simple answer is maximizing control and efficiency for the rider, especially at a closed course where top speeds, forces, and physical exertion are much higher than on a leisurely cruise.
Fortunately, several ways to improve motorcycle ergonomics without breaking the bank exist. For example, t bar risers with a pullback plate allow riders to adjust handlebar positions for a much more comfortable fit. In addition, new foot controls also provide riders better grip and can be adjusted for better ground clearance when ripping through sharp turns and twisties.
However, every rider has a unique shape and size that should be accounted for, not to mention circumstantial preferences and ailments that may limit the range of motion. Below is a list of specific ways to improve the ergonomics of your V-twin.
Footpeg Placement
No question, the placement of foot pegs or floorboards is the most vital aspect of rider position, especially at the racetrack. And that's for more than one reason.
Altering the lower-body stance into a more aggressive position allows the rider to utilize his or her leg muscles to maneuver the motorcycle through a series of corners, reducing the energy and upper-body strength needed.
Secondly, repositioning will result in added ground clearance for cornering. More lean angle, anyone?
What's the ideal foot peg/floorboard position? Traditionally, we like to think of an aggressive stance, with pegs placed up and back. Think about it as a baseball outfielder resting on the balls of his feet ready to pounce on a fly ball! In addition, it will place you in front of the motorcycle so you can lead the bike.
At Kraus, we've built several options to accommodate different positions. The most aggressive is the Apex Edge Foot Peg, available for Harley-Davidson models. It is also available for passenger fitment touring models, and more.
Other options, like the Kraus ERG One Mini Board, offer a larger platform than a standard peg for solid planted feel while providing a minimalistic design that's conducive to a more aggressive appearance and adjustable position.
Handlebar Position
If you're planning to rip the racetrack, dialing in the handlebar position is critical. Isn't that where you'll make the most of your riding inputs?
Let's get rid of the ape hangers and find a more comfortable position that offers more leverage when you need it most. It's about finding a comfortable reach to the grips with a little rise (again, imagine yourself on top of the motorcycle in an aggressive stance, rather than sitting "in" it) for the best possible control.
Moto Bars are designed for an elbows-up posture, which is integral to aggressively controlling your motorcycle. Width plays a big role in the proper leverage. Too wide and control is hindered; too narrow and the motorcycle feels like it has a mind of its own. We have found through usage data that 32" is optimum in most all cases.
Kraus offers several handlebars to choose from, including the ERG Moto Bars, which provide adjustability in sweep and angle to dial into your preference. Other options, like offerings from Fly and ODI, will achieve a similar position with less adjustability. Find what works best for your rider's shape and size.
Mounting those Moto Bars is a critical factor. Not all risers are the same. Kraus Isolated Risers are designed to put your bars in the perfect location while completely relieving any unwanted flex from rubber bushings.
As you input force to your bars, the risers transfer that force to your front-end suspension system. If you have flex in your bushings your input is not accurate and makes the system feel sloppy. Isolated Risers are solid mounted to the Triple Tree and have rubber vibration isolator bushings up in the bar clamp section. This minimizes any flex but still limits vibration.
Saddle Recommendations
Chances are, your mind may have skipped the saddle entirely when tuning your riding position for the racetrack, but it's equally as important. Acceleration and braking forces are higher at the racetrack, so maintaining position through a well-shaped and grippy saddle is essential.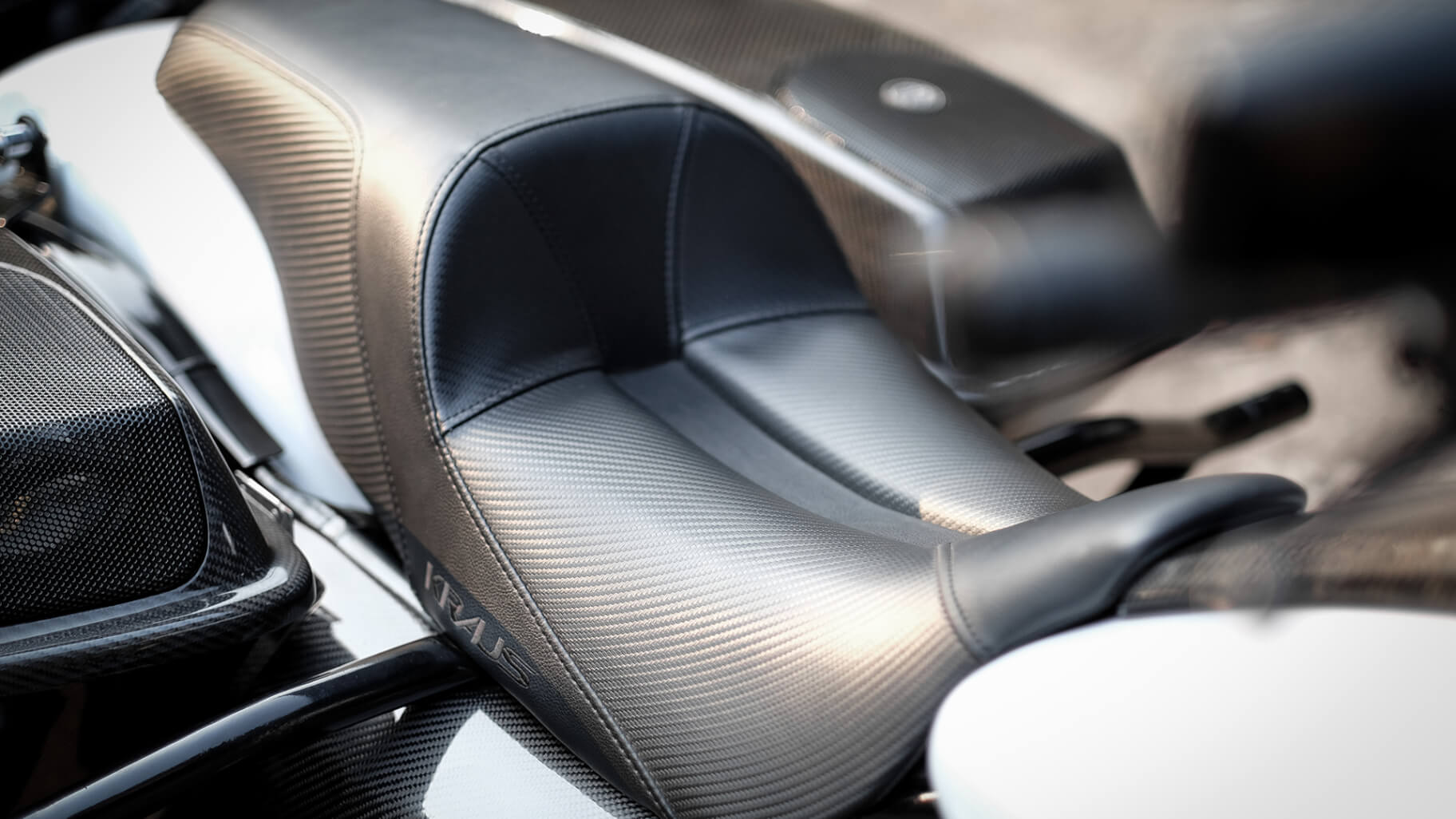 Pick something with a grippy material. Strenuous forces may slide you forward or backward in the seat, causing more strain to hold onto your V-twin than necessary.
Secondly, a saddle with reinforcement through an aggressive shape will help combat unwanted movement under acceleration and hold you in place. Think of a rear hump to catch you.
The Kraus Moto Pro Series Seat offers the rider a ergonomically designed firm base that moves the rider forward ¾" and up ¾". The seat is narrower than stock which allows the rider to move around and reposition while entering and exiting corners easier. The narrowness also allows the rider to plant feet on the ground more confidently at a stop.
---
2. Suspension: Better support and more adjustability to your needs
---
The beauty of the racetrack is that conditions stay mostly the same, meaning you can split hairs and fine-tune your bike's damping characteristics until its handling is perfect. But, on the contrary, no matter how well you have it tuned for the public roads, unexpected asphalt conditions and variables will also throw a curveball.
High speeds and G forces place serious demands on your motorcycle's suspension, most of which stock components simply can't handle. So what's the best aftermarket option? Well, it depends on your needs.
If you're a typical V-twin enthusiast who occasionally attends the local track day, options like an Öhlins or GP Suspension drop-in fork cartridge kit may suit your needs. Each will offer full adjustability (compression and rebound damping, plus spring preload) while utilizing your stock fork componentry.
For the all-out enthusiasts or racers, the KRT Inverted Front End Kit features a top-shelf, fully adjustable Öhlins inverted fork fitted to the Kraus billet aluminum triple trees to achieve an optimal steering geometry for high-performance use. The added rigidity and support of the inverted fork and tree combo will lend itself to improving feel and stability under the scrutinizing loads of racetrack use.
Out back, upgrading to a pair of aftermarket Öhlins rear shocks should do the trick, opening up adjustability and offering better performance and traction.
---
3. Brakes: Horsepower only goes so far
---
The braking system is arguably the component that suffers the most abuse when flogging an American V-twin around the race track. Slowing the energy of a 600-pound motorcycle traveling upward of 120 miles per hour is no easy task.
Upgrading to high quality oversize rotors will increase the amount of torque the braking system has over the wheel rotation with the same amount of lever pull. Check out the Kraus Cubiq 320 kit Upgrading to a set of top-tier radial-mount calipers from industry-leading companies like Brembo or Beringer will seriously improve stopping power.
Adding secondary components like aftermarket Brembo calipers, rotors, and an upgraded master cylinder will improve consistency in performance and feel at the brake lever.
---
4. Wheels: 17-inch wheel sets expand tire availability and improve maneuverability
---
Outfitting your American V-twin bagger with an aftermarket set of 17-inch wheels may offer the easiest improvement in terms of performance. And in more ways than one.
Investing in a set of standardized 17-inch Harley Davidson wheels opens the possibility to sticky race-spec rubber from nearly every tire manufacturer, like Bridgestone, Dunlop, Metzeler, and Pirelli. In addition, the added grip will greatly improve outright traction and feel at the racetrack while shedding seconds off your lap.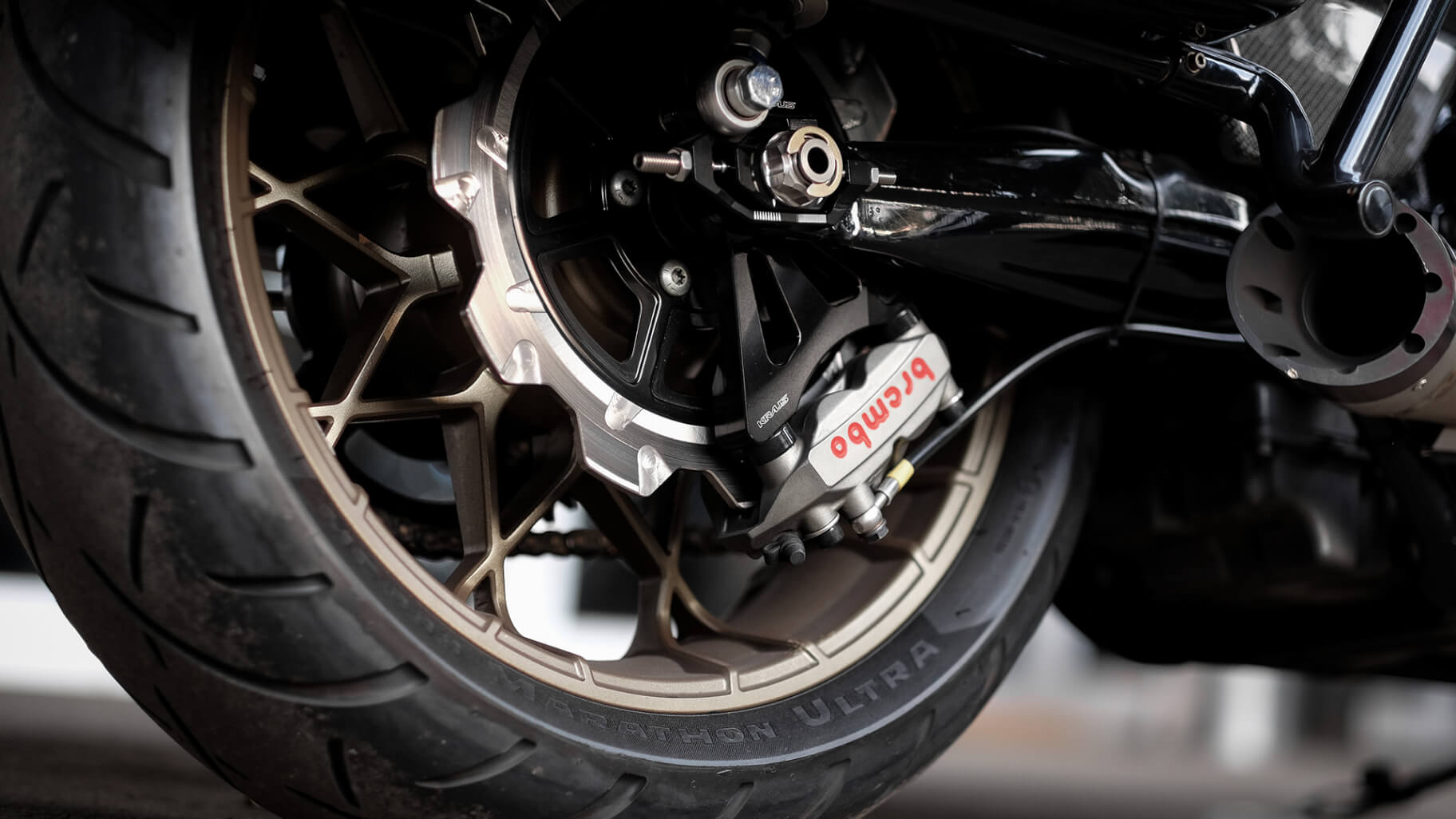 Some companies, like BST, offer wheels constructed of composite carbon fiber, which can shave serious amounts of rotating mass off your motorcycle, turning your Harley-Davidson or Indian's steering into sportbike-like performance. We're talking about a potential weight savings of tens of pounds!
Other materials, like forged aluminum and magnesium, are also effective aftermarket options.
---
5. Carbon fiber body kit: Nothing speaks high performance like carbon composite!
---
Carbon fiber has no limits!From wheels to fairings, carbon composite is the best way to deck out your V-twin and let everyone know your intentions.
Kraus offers carbon fiber Harley parts from DTF Performance, including a Road Glide carbon fiber front fairing, which looks frickin' mean. Not to mention it'll save nearly four pounds in comparison to the OEM piece.
Other carbon fiber pieces, including fenders, saddlebags, and other various bits, will deck your bagger out that much further.
Strategically investing in your V-twin bagger will boost its racetrack performance and slice seconds of your lap time, but it's about keeping it simple.
To begin, limit your upgrades to the necessities of control and safety rather than superbike-level performance. Then, use the extra money to add another track day to your calendar or pay for top-level riding instruction. Experience is everything.
Once your riding fundamentals have been dialed in, pony up for the big dog go-fast parts and take advantage of every lap.