The most effective suspension upgrade options.
---
It's simple: Building a performance Harley V-twin is about redefining the level of performance within the platform, whether that platform is a bagger, Softail, Dyna, Sportster, or FXR. Think: Power delivery, stopping performance, and handling.
However, what is the good in decking out your Harley-Davidson with all the go-fast parts if it can't handle the performance? Suspension parts are an important but often overlooked upgrade for most Harley riders.
Whether it's new triple trees or an entirely new front-end fork, the improved handling from a new suspension can inspire greater confidence on the road.
In addition, an improved suspension allows for increased ground clearance, higher lean angles, better traction, improved chassis rigidity for rock-solid composure, better damping characteristics, and the ability to fine-tune suspension settings to your liking.
In this guide, we'll cover the most effective suspension upgrades available for your American V-twin, from basic drop-in parts to full-blown front-end kits derived from the highest levels of racing.
---
1. Inverted Front Ends
---
Upgrading your Harley with an inverted front end instantly improves performance and handling.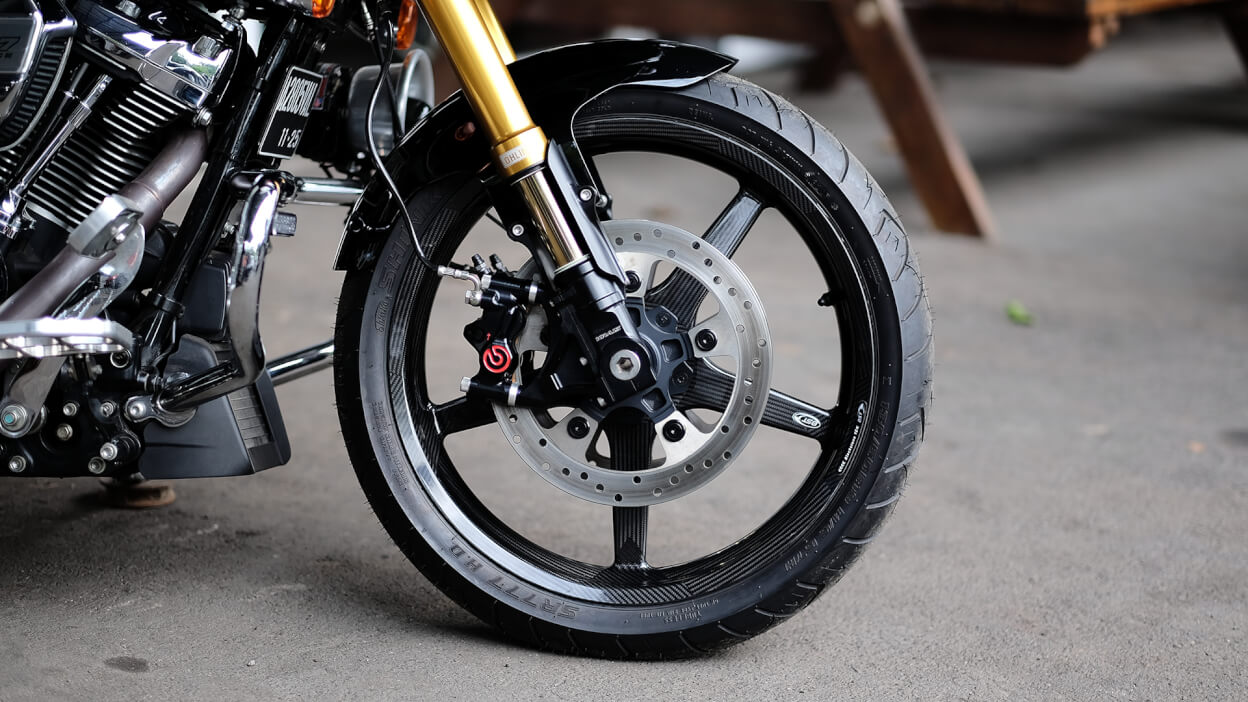 The benefits of an inverted front fork suspension include:
Increased rigidity: More rigidity and reduced flex translate to composure under heavy forces and a stronger sense of connection to the front tire's contact patch. As a result, you'll experience higher confidence when hammering through corners and trail braking deep to the apex.
Huge weight reductions: Reducing unsprung weight in your suspension components or aftermarket wheelset can positively impact your handling and cornering precision.
Improved damping characteristics: Inverted front forks offer better compression and rebound damping characteristics than conventional fork designs for better suspension effectiveness.
For example, the KRT Touring Front End Kit from Kraus combines the technical know-how of two industry-leading companies for unrivaled performance. In addition, we've paired the Kraus Billet Aluminum Triple Tree with a fully adjustable (compression & rebound damping, plus spring preload) Öhlins fork and internal cartridge kit for badass handling.
---
2. Drop-in Fork Kits
---
A drop-in fork kit from GP Suspension or Öhlins offers similar damping characteristics and performance at a fraction of the cost of an inverted front-end kit while utilizing your existing OEM components.
The GP Suspension 25mm Cartridge Kit is the prime example. This drop-in kit will utilize your Road Glide or similar models' stock fork tubes—with minimal modification required—while dropping in a fully adjustable (compression & rebound damping, plus spring preload) cartridge that is worthy of seriously elevating your motorcycle's performance.
Seamless feel and consistent traction through the suspension stroke are achieved via GP Suspension's use of an additional base valve in its three-piston system.
The Öhlins NIX 22 kit achieves a similar level of adjustability to a standard fork. The beauty of the Öhlins system is the separate functions within each fork—the right housing the rebound damping circuit and the left being home to the compression damping circuit. The split function allows for precise damping. In addition, spring preload adjustments are made at the top of each fork.
Whether you decide on Öhlins or GP Suspension, each kit is made fully adjustable. For further fine-tuning, each company offers a wide variety of spring rates—typically known as soft to heavy—to dial to your preference.
---
3. Aftermarket Shocks
---
Okay, we've got the front end of your Harley-Davidson dialed, but what about the rear? It's all about a balance of performance, remember?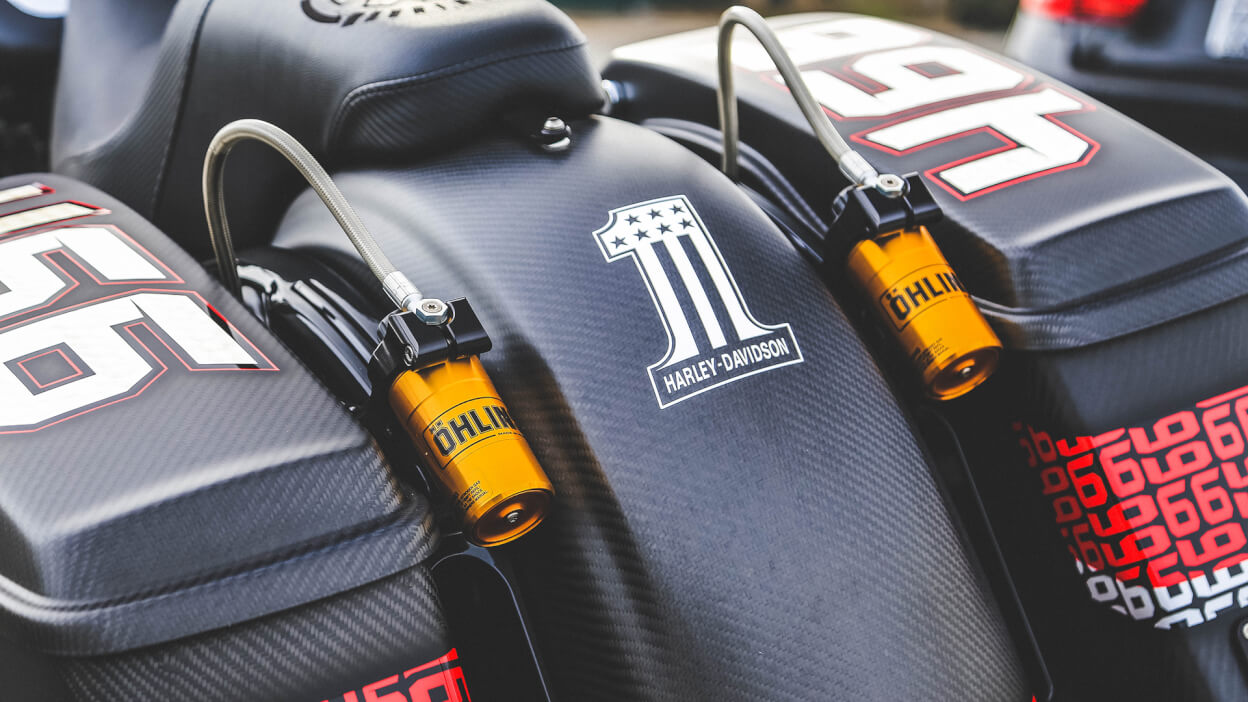 Thankfully, there are several options of aftermarket rear shocks to choose from, like twin Öhlins shocks that feature full adjustability—(compression & rebound damping, plus spring preload) and hose-mounted remote reservoirs. These are simple bolt-on upgrades worthy of improved rear-wheel traction for hard corner exits, all-day comfort, and a better feel.
---
4. Suspension Extenders
---
Finally, it's all about ground clearance. Boosting the ride height of your bike will allow for higher lean angles and less chance of scraping hard parts on the ground. Seriously, take a look at any competitive race bike in the MotoAmerica King of the Baggers series.
So how do you lift your V-twin? There are several options, most of which require more serious modification than a five-minute bolt-on.
Most companies offer options to increase fork length for a fully inverted front fork kit or drop-in cartridge in your OEM setup. For example, the standard length of the Kraus KRT front-end kit is already ½" longer than your stock FLH/ FLT models but can be pushed out to as much as 2 inches longer than the stock.
Likewise, the GP Suspension 25mm kit is offered at an OEM length or an additional 2 inches, which requires an aftermarket 24⅞" chrome tube.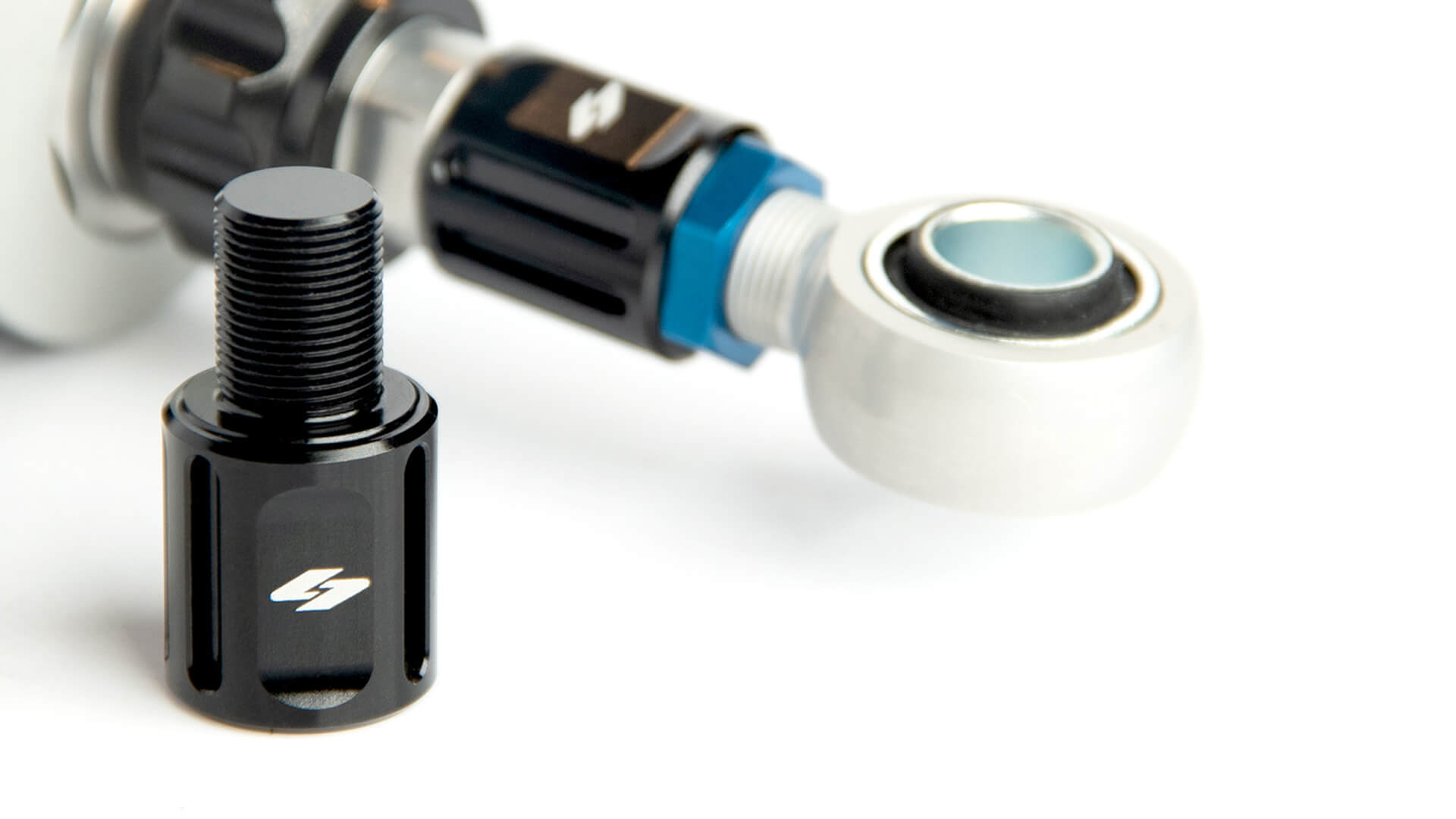 The Kraus Moto 1" Rear Shock Extension is compatible with aftermarket Ohlins rear shock absorbers, picking your Harley's tail off the ground for a well-balanced chassis setup. In addition, these pieces are stackable up to two inches for maximum clearance.
---
Upgrade Your Suspension
---
Hands down, upgrading your V-twin's suspension can be critical for safety, performance, and fun factor. Plus, it's a blast to dial in your own personal settings.
Racing-inspired fully inverted fork kits are the mac daddy of performance but tend to be more expensive. Other options like drop-in cartridges and aftermarket rear shocks offer a simple and more cost-effective upgrade.
Decide what you're looking for in your build, and let the hammering begin.