Well-rounded performance equals total control for your Harley or Indian Bagger
---
With power comes great responsibility. However, to enjoy those fast performance upgrades, you should also consider investing in aftermarket parts that yield higher control.
Whether it's Kraus handlebars, new lower pegs, or adjusting the ground clearance of your V-Twin Bagger, there are several easy ways to inspire more confidence and comfort out of your ride. The more confident you are in your ride, the faster you'll go.
Let's discuss how to better control your V-twin bagger by upgrading your braking components, suspension adjustment, and acquiring proper ergonomics.
---
Achieving Proper Ergonomics
---
Dialing in the ergonomics on your Harley-Davidson or Indian V-twin is about maximizing rider control while exploiting your build and skillset's true potential. Add in an extra degree of safety here, and it's clear why we named ergonomics upgrades the most effective entry-level performance upgrades for your motorcycle.
Since every rider is shaped differently, dialing in the rider triangle to your preference will improve comfort and reduce physical exertion.
Let's look at the three areas where you can instantly achieve proper ergonomics and better control on your bike.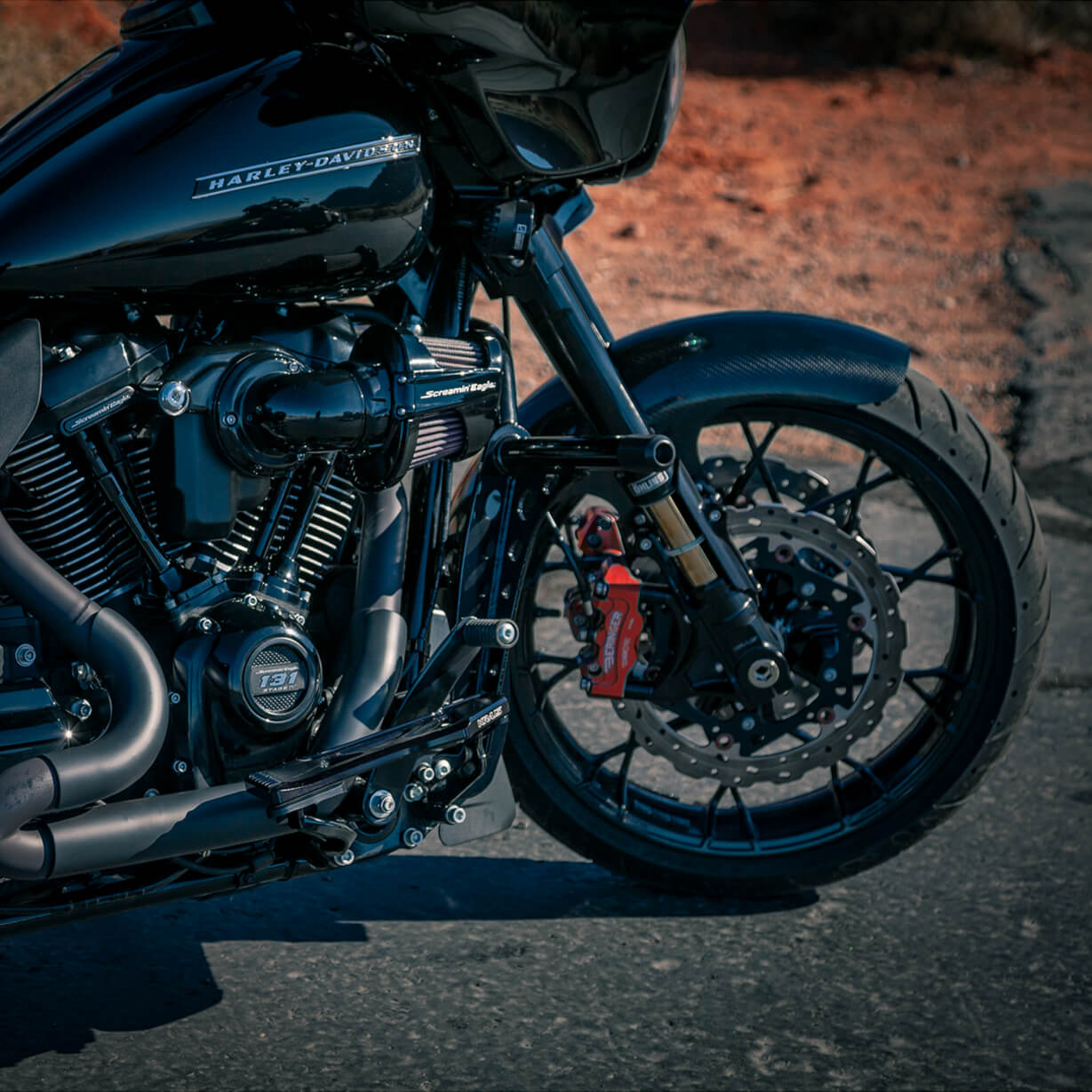 Lower-body controls
Adjusting the position of your lower body will reap benefits in more ways than one. Some of the benefits of new lower-body controls include:
Improved rider position: With your foot pegs or floorboards pulled up and back, activating leg muscles will help your bike maneuver around obstacles more easily.
Improved comfort: Redesigned foot pegs allow you to use your legs without as much upper-body exertion, so you won't feel as sore after rides.
Improved ground clearance: Added ground clearance means greater lean angles for better control and safety while you deck it through the corner
Where is the ideal positioning of foot controls? We like to think of it as an athletic posture with riders on the balls of their feet, ready to charge the corner ahead.
The up-and-back position is the most popular and found on every high-performance racing bagger in the MotoAmerica and Bagger Racing League paddocks.
At Kraus Moto Co., we pride ourselves on creating a range of products to customize the fit of American V-twins to any preference. The Erg One Mini Board offers a traditional style in a minimalistic design, offering a rock-solid feel and aggressive aesthetic.
If you're after the most aggressive stance on your Harley-Davidson, the Apex Edge Foot Peg gets rid of a bulky floorboard for a sportbike-like lower stance.
Handlebar Options
The next easiest way to improve your ergonomics is with a new set of handlebars.
There's no chance of arguing that most riding inputs are made through the handlebar. That's why dialing in the position of your bars is crucial for performance riding.
Again, it's all about control. Ditch the gimmicky handlebar position and ape hangers and find a comfortable yet aggressive stance.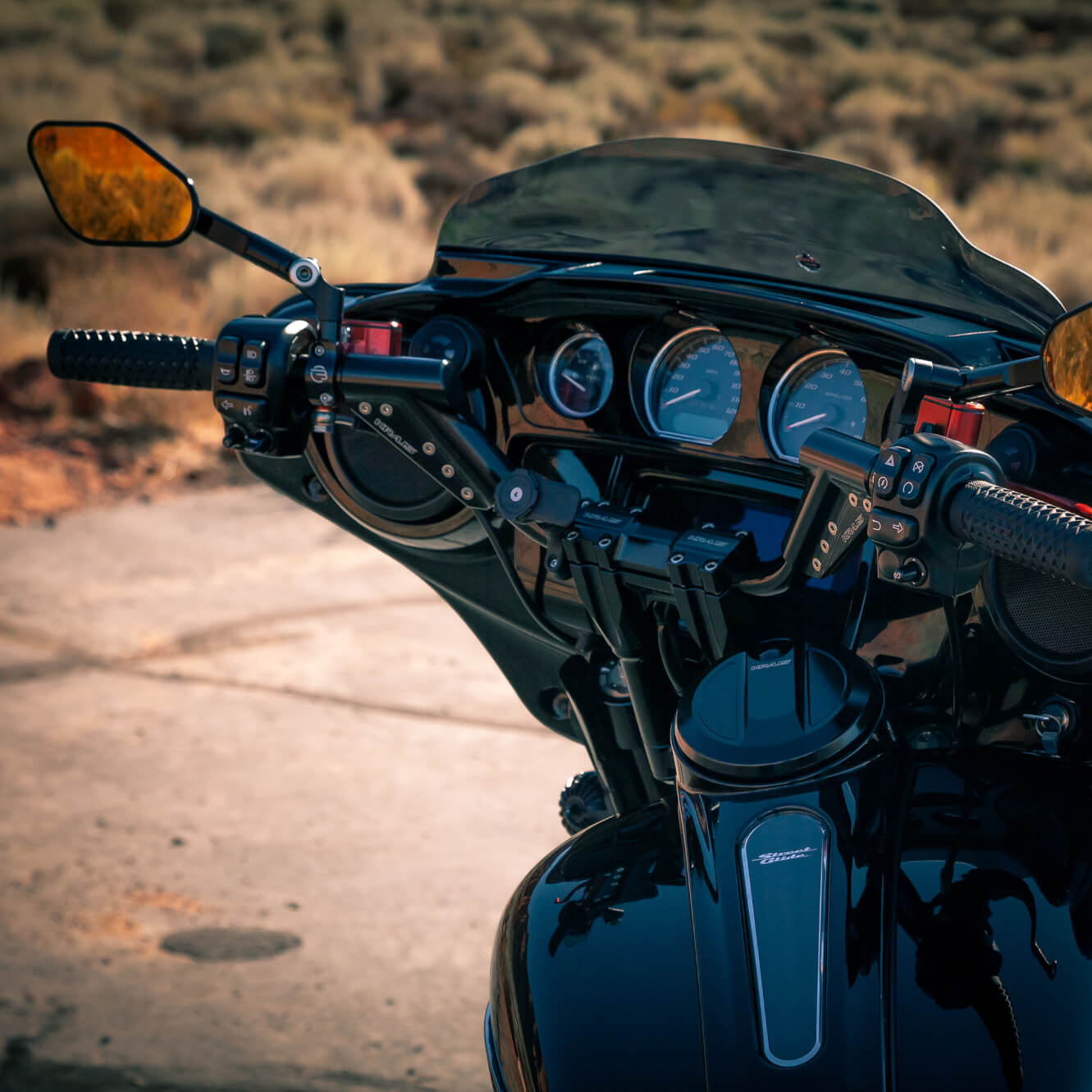 A set of pullback risers will help you adjust your handlebars toward or away from you for an improved stance. The most optimal position usually means a slight rise with lots of leverage.
Think about ODI V-Twin/ Moto Bars as an option. The elbow-up design proves critical in steadfast control and composure, especially under the scrutinizing forces of the racetrack.
Original products from Kraus Moto, like the Erg Moto Bars, provide the ultimate fit through endless adjustability in bar sweep and angle. Buy one set of bars and never buy again. Tune and tailor until you've found the perfect fit.
Saddle selections
Let's face it—the saddles built for the grand touring long-haul do not fit the needs of high-performance baggers. Yes, comfort is always critical, but those looking to hammer the curves need something conducive to control and safety.
Pick a saddle that will help lock your riding position into place, no matter the severity of acceleration, deceleration, and cornering forces. In addition, an added gripper material will help from sliding fore and aft during riding.
---
Aftermarket Braking Components
---
If you're looking for greater control over your Bagger, look no further than a set of new aftermarket brake components. Unfortunately, the stock brakes on your V-twin likely lack sufficient stopping power and lever feel.
Imagine having all the power needed to stop your 800-plus pound motorcycle on a dime and having enough confidence to know how much pressure you need to stop your Bagger smoothly and safely.
So what are the best braking components to target? Consider high-quality, oversized brake rotors that increase the braking system's torque over wheel rotation. The Kraus 320 kit takes advantage of 320mm rotors from Galfer while utilizing the OE-fitted calipers on your Harley-Davidson.
Looking for even more stopping power? A set of Brembo calipers or a radial caliper mount will dramatically improve stopping power, while aftermarket master cylinders will add a better feel to the brake lever for more confident trail braking.
---
Suspension Adjustment
---
Finally, simple suspension adjustments can add confidence-inspiring support to handle the added loads and G-forces associated with shredding your V-twin. However, pushing it too far on stock componentry can lead to costly mistakes.
Fortunately, industry-leading companies like Öhlins and GP Suspension have created drop-in fork cartridge kits that utilize OEM componentry. For those with a larger budget, you can also look into a brand-new inverted fork suspension system.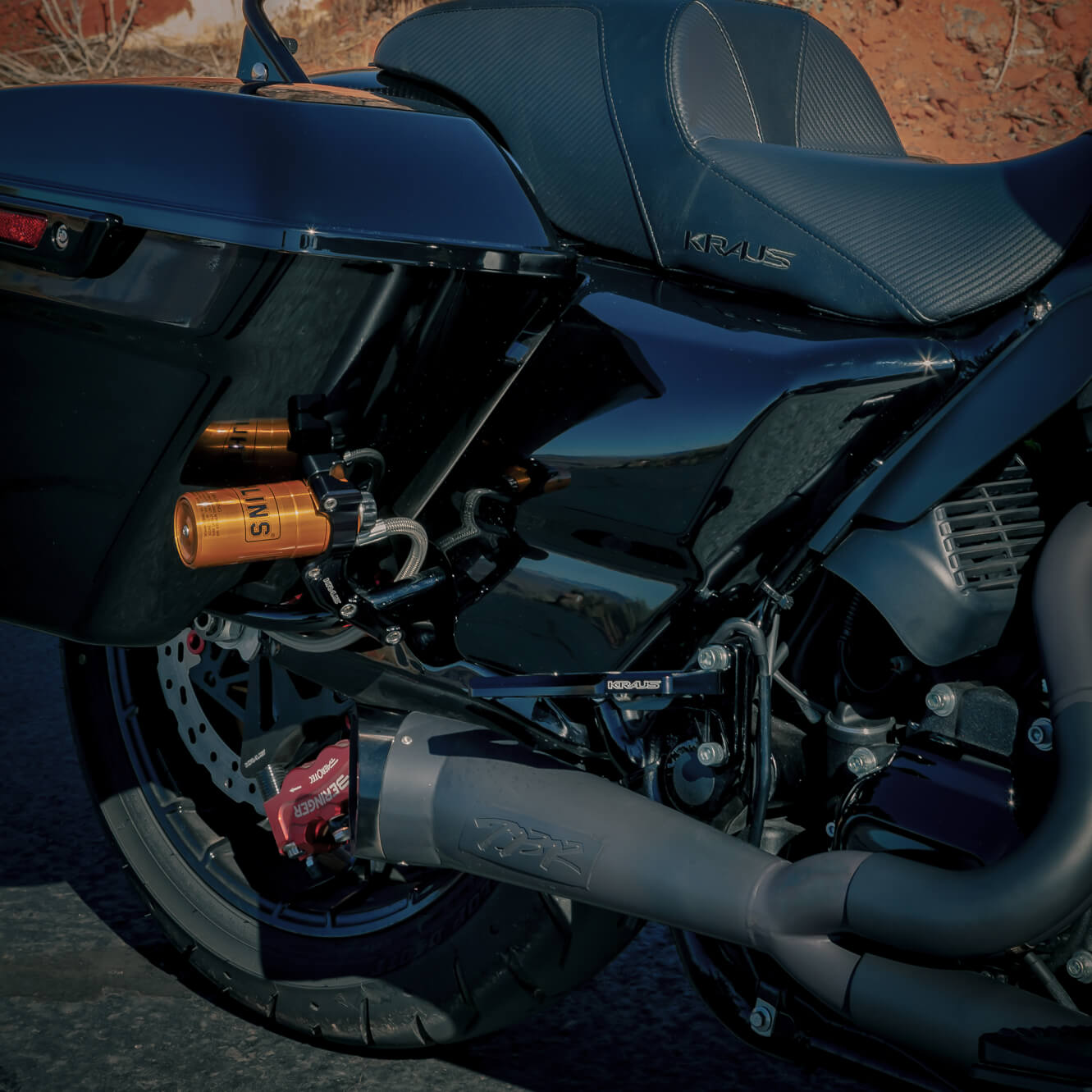 These systems greatly improve damping performance while offering full adjustability (compression and rebound damping, plus spring preload) to meet your needs. Plus, they'll come pre-set with springs and settings based on your feedback.
In addition, upgrading your rear suspension will complement your front end's newfound ride quality and support. Öhlins offers several bolt-on kits with trick remote reservoirs for easy adjustability.
---
Improving Bike Control
---
We can't state it enough: The ultimate performance bagger is about balancing performance attributes and achieving ultimate bike control.
Adding leverage in all the right areas and reducing physical exertion through ergonomic adjustments is critical. It isn't just about the control at a racetrack either; it's about having the position to handle any unexpected situations at any given time.
Improving stopping power means everything in performance builds. So when it comes to pushing your braking marker closer to the corner, there's no reason to skimp on up-spec componentry. High-quality parts will improve stopping power and performance when you need them most.
Finally, simple upgrades to your motorcycle's suspension can boost composure and create a planted feel while decking the hard parts through curves.
The added forces of high-performance riding are simply too much for your OEM equipment and will likely create an uneasy chassis. Give yourself the rock-solid composure you deserve for your motorcycle.
Not only do these upgrades improve the safety and feel of your V-Twin Bagger, but they also inspire you to be a better rider, knowing your bike can handle anything you throw at it.