Jan 3rd 2023
Analyzing every option for V-Twin suspension upgrades
---
Function comes before form in the search for better handling, increased ground clearance, control, and power. Leave any extra heft or nonsense at the curb and focus solely on performance. It's about taking these V-twins to the edge of performance and further than they were ever meant to, and passing the sport bikes in the process.
Secondary to upgrading your Harley-Davidson or Indian's rider triangle for more leverage and an attack-style position, investing in aftermarket suspension is an easy way to achieve more control on the road or track.
Your bike will reap huge gains, and there are tens, if not hundreds, of options to consider in suspension upgrades. But which is suitable for you and your high-performance V-twin bagger build?
The section below discusses the basics of suspension componentry, the options to consider for your build, and dialing in settings to your preference.
---
Breaking Down the Suspension Basics
---
Before upgrading every suspension component imaginable, let's define all the important terms and concentrate on what each adjustment means and how it will affect the ride of your bike.
Spring Preload
The spring preload adjuster shortens or extends the length of the spring within your fork. There's a common misconception that preload affects spring stiffness. Instead, preload is used to adjust the fork or rear shock spring to the appropriate range of its operation within its travel. That said, more preload will raise the motorcycle on its suspension near the top of its travel, while decreased preload will lower the bike within its travel toward the bottom.
Compression Damping
Compression damping controls the rate of how fast the suspension can compress when it hits a bump. Too stiff of compression damping and the rest cannot compress quickly enough to handle a bump, and the discordant energy is transferred to the chassis.
Conversely, too soft of compression damping causes the suspension to blow through its travel stroke under hard deceleration, braking, or facing bumps, sometimes hitting the bottom of its operating range of travel and relying on the tire and chassis to do the remaining work.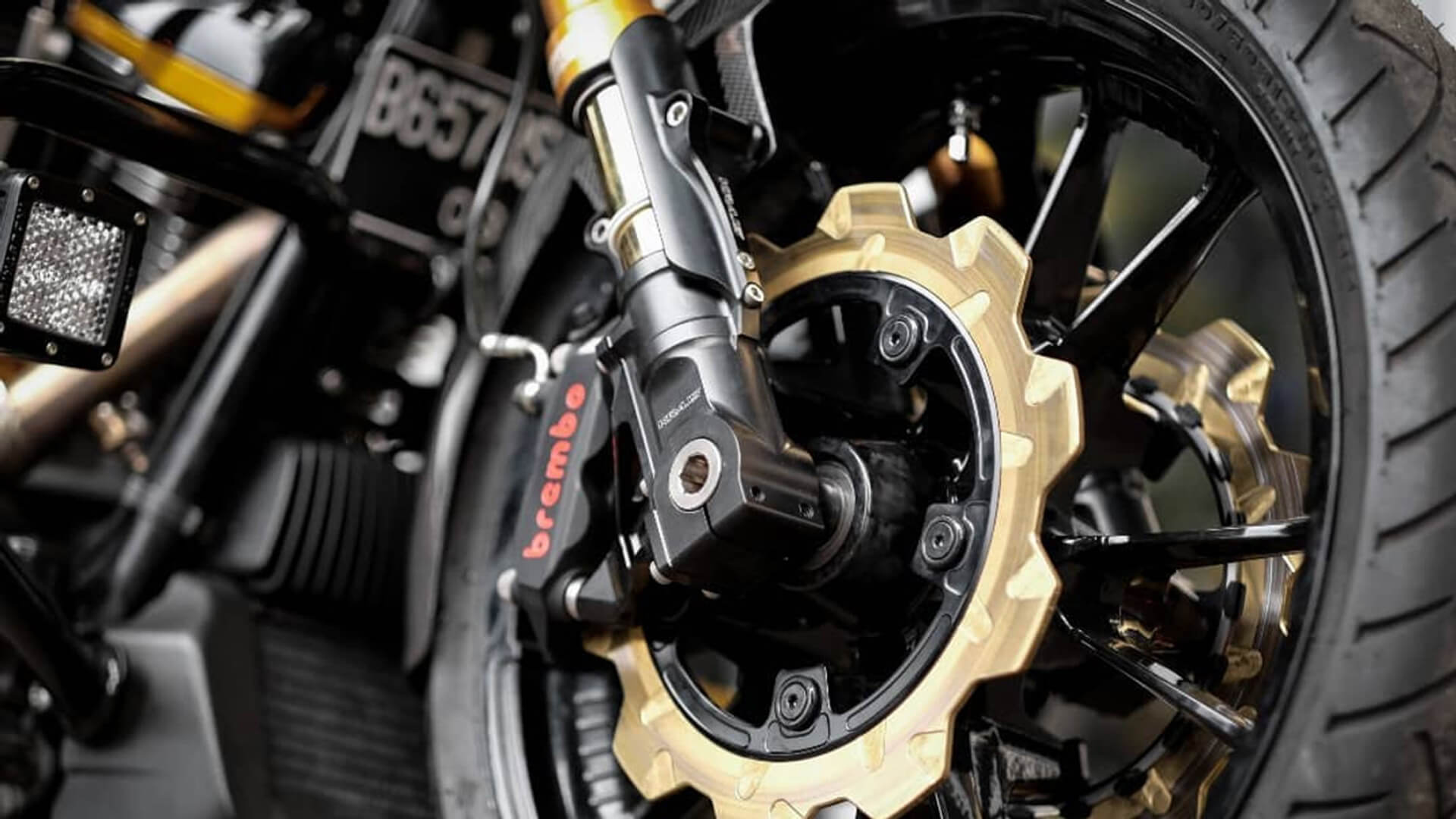 These modern damping circuits of compression and rebound are hydraulic systems acting as piston pumps, pushing fluid through tuned stacks or, in layman's terms, channels to create damping force. Circuits can be adjusted almost infinitely to cope with varying conditions, rider preferences, and the type of riding you're after on your high-performance bagger.
We call the damping adjusters of compression and rebound circuits "clickers."
Rebound Damping
Once the suspension is compressed under load, rebound damping controls the rate at which it can extend to full travel. This is important in keeping the tire's contact patch firmly on the ground for maximum grip.
Too much rebound damping means keeping the suspension compressed as it travels over the backside of the bump or when it should be extending. This means losing contact with the ground.
Conversely, too little rebound damping makes the suspension spring back to full travel too quickly, giving the motorcycle a loose, uneasy feeling.
Spring Rate
Spring rate is the stiffness of the spring within your forks or rear shock. Typically, this is measured in kilograms per millimeter or pounds per inch. A soft spring will glide over imperfections, featuring more "small-bump compliance." Heavier springs will better cope with the heavy loads of hard acceleration and deceleration found at the racetrack and the backroads while handling the hits of bigger bumps.
Spring rates can also be adjusted to fit varying sizes and weights of riders.
---
Upgrading the Suspension on Your V-Twin
---
Now that you understand suspension basics better, it's clearer why aftermarket components: Adjustability to meet your preferences.
Let's face it. OEMs aren't delivering motorcycles with enough adjustability to handle the needs of a range of riders, let alone those who want to rip it up. Consider that even the most performance-oriented Harley-Davidson bagger models, the Road Glide and Street Glide ST, offer only spring preload adjustment on the rear shocks. Nothing else. Investing in even simple componentry can seriously alter your V-Twin's handling for the better.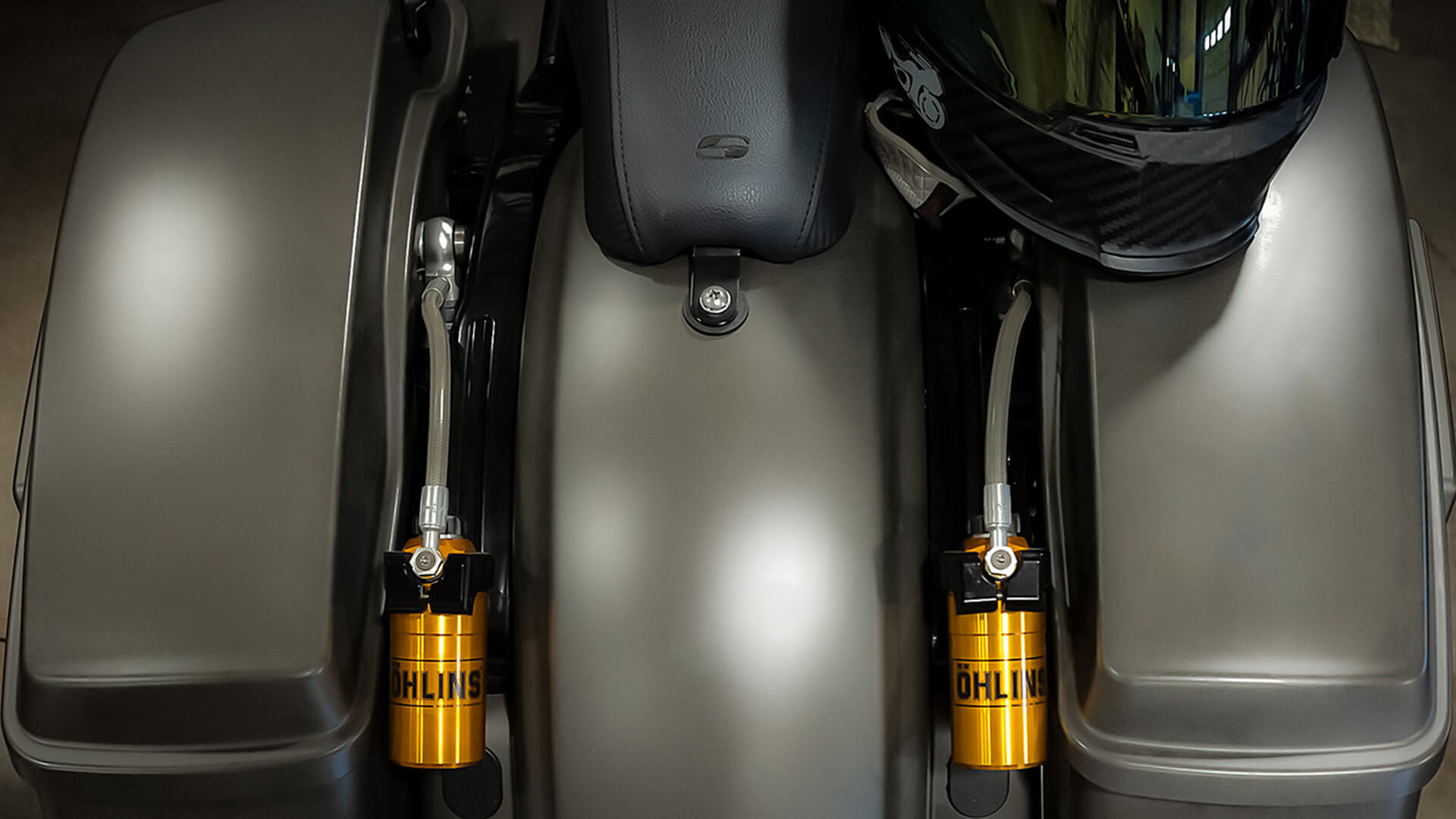 Aftermarket Rear Shocks
Even beyond the high-performance scene, the most common suspension upgrade in most bagger builds is a set of aftermarket Ohlins shocks. Why? Because these bolt-on upgrades are simple and vastly improve the ride quality and performance.
These can easily be tailored to your needs via full compression and rebound adjustability, as well as spring preload. Aftermarket shocks are also typically easier to swap springs for the ideal rate.
Drop-in Fork Cartridge Kits
The drop-in cartridge kit is the most cost-effective upgrade to the front end of your V-twin, plain and simple. Cartridges from industry-leading companies like GP Suspension and Öhlins easily replace the damping internals in your OEM fork for significant ride quality and performance results. Consider cartridges offering the performance of a purpose-built inverted fork at a fraction of the cost that has also been developed in the confines of racing.
What makes them so attractive? Adjustability. Most offerings feature external compression and rebound adjustment, plus adjustable spring preload. As we've discussed, this means the opportunity to dial in the settings of your fork to match your preference and needs based on your bike build and riding conditions. Spring rate is also easily adjustable on these kits.
Consider your options and take note of what comes in the kit. For example, GP Suspension provides springs based on rider weight and preference, while Öhlins does not, and springs will have to be purchased separately.
Installation is relatively easy with the proper tools and mechanical experience, but we always suggest utilizing a proven service shop focusing on aftermarket suspension and tuning. A formal relationship with a shop will help you dial in settings to your preference and needs for the best ride quality possible.
Inverted Front End Kit
Inverted front ends are the mac daddy of performance chassis upgrades for a true high-performance bagger build. Combine the benefits of a drop-in fork cartridge kit with the extra rigidity of inverted fork tubes and steering geometry.
We've built the KRT Touring Front End Kit and the Kraus Triple Trees to pair with a fully adjustable Adjustable Öhlins inverted fork for the best of all worlds.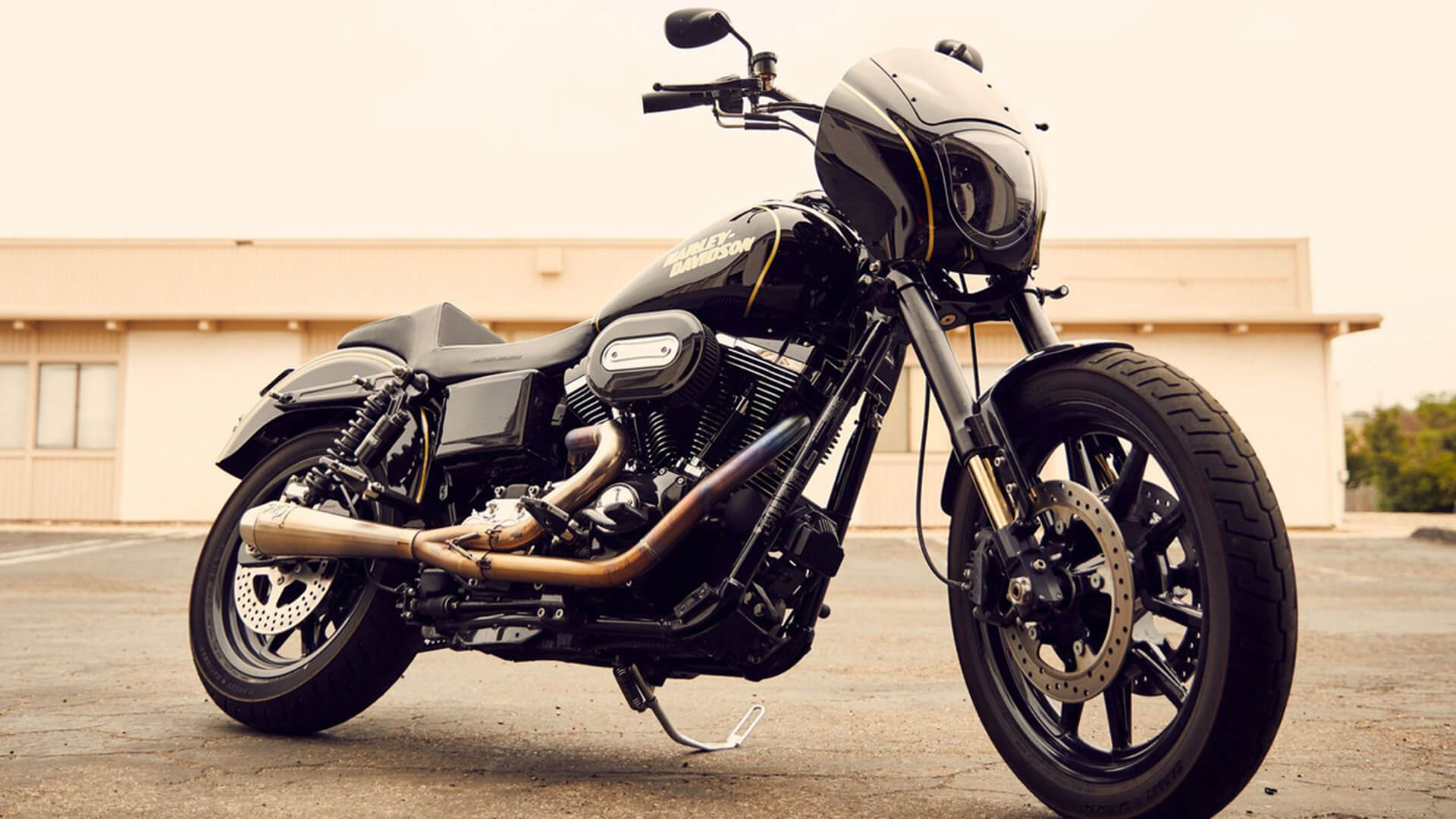 Upgrading suspension is critical to the performance of your American bagger. However, aftermarket suspension's added control and adjustability should be based on your preferences and demands. Thankfully, several options are available that will improve performance and keep the bank intact.

Whether you choose to go for the complete race build of an inverted front-end kit or only bolt-on rear suspension, the benefits will make your bagger's handling better in every regard.