A bagger that speeds up must slow down
Purchasing the latest crate engine with a massive 135 cubic inch or bigger displacement and achieving dyno numbers upward of 150 horsepower and 150 pound-feet of torque is a great way to build a monster American V-twin with absolutely ripping horsepower.
However, the most potent builds balance horsepower with the handling and bike control needed to slay the racetrack or mountain twisties. And because outright horsepower is only truly accepted in drag racing, we've also put serious emphasis on our V-twin's braking performance.
While there are several ways to improve your handling using a pair of Kraus risers or new handlebars, a new set of brakes is a surefire way to help you retain more control over your massive motorcycle.
What speeds up must slow down; on an 800-plus pound motorcycle, that's not exactly an easy thing to do.
Let's break down why upgrading the brakes on your American V-twin is crucial for safety, performance, and how it can lower your lap time at the racetrack.
---
Benefits of Upgrading Your Bagger's Brakes
---
There are several reasons to upgrade your braking componentry, most of which generally speak to safety and performance. While there may be finer details, including weight reduction and more widely available parts at the racetrack, here are our two main reasons.
Improving Outright Stopping Performance for Increased Safety
Think about it this way: Harley-Davidson or Indian baggers can achieve incredible speeds, especially those with serious power plant upgrades. However, objective testing at 60 to 0 mph requires stopping distances as much as 25 percent longer than a traditional sportbike.
That can make for a sticky situation in a circumstance with unexpected traffic or road conditions or if you find yourself getting greedy in the braking zones at the racetrack.
Of course, an easy way to improve braking performance is weight reduction, but increasing stopping power, initial bite, and consistency are critical to any high-performance build. For example, a set of Beringer brakes or Brembo calipers can significantly increase your stopping power on a dime and give you more control with a simple swap.
Increased Lever Feel for Better Control
Ultimately, new brakes are about giving you more control over your bike.
Increasing lever feel also speaks to the safety aspect, but it will also improve outright performance as well.
So what is brake lever feel? It's the feeling of just how much brake pressure is being applied at the rotors and how much there is left to work with at any given time. This is absolutely critical in boosting rider confidence and safety during high-performance riding at the racetrack or backroads where trail braking into corners is necessary.
With additional benefits of new brakes, such as reduced brake pad wear and added style, in mind, let's explore some powerful aftermarket brake options for your Bagger V-Twin.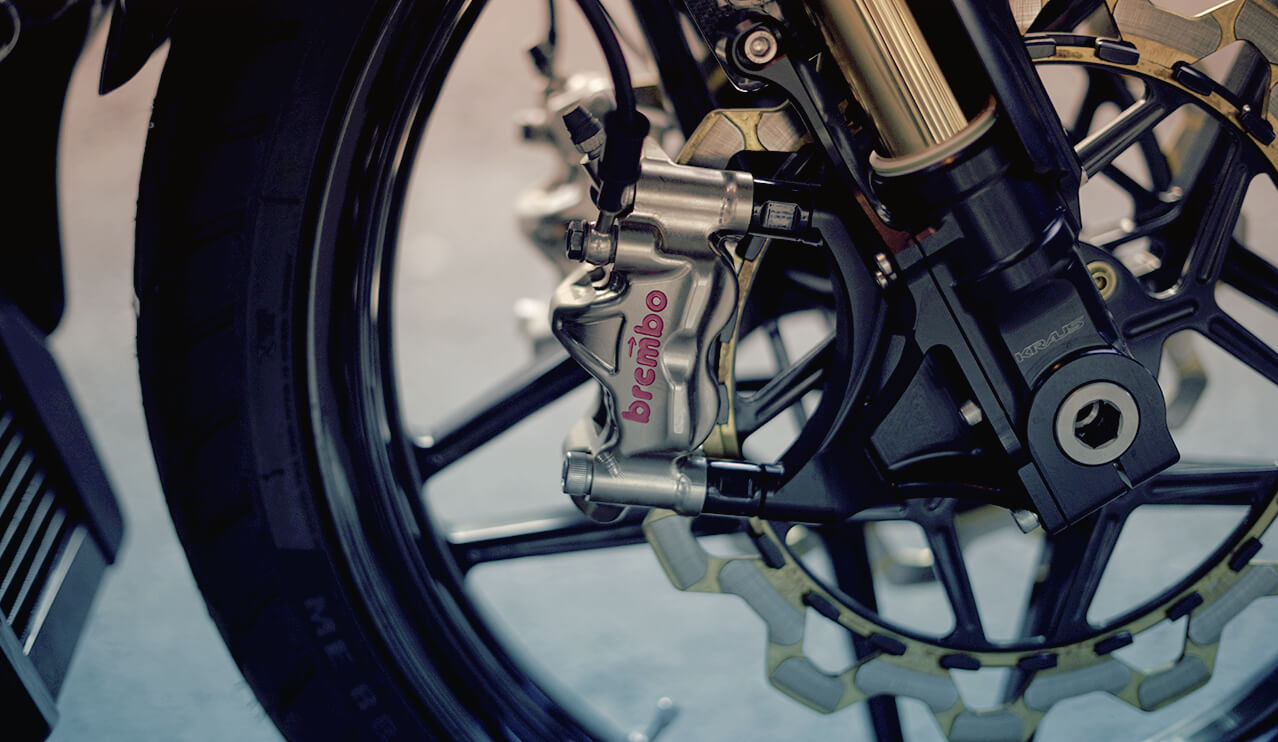 ---
Powerful Aftermarket Brake Options
---
Oversized Rotors
Hands down, the most effective upgrade for your bagger is a set of oversized brake rotors. High-quality, oversized rotors effectively increase the brake system's torque over wheel rotation for maximum force and reduced stopping distance.
On the majority of Harley-Davidson touring platforms, 300-millimeter discs are used in stock applications, but a number of aftermarket parts manufacturers offer oversized rotors of 320 millimeters or larger for increased stopping power while utilizing the OEM-fitted calipers. Note that this often requires an adapter kit to achieve correct spacing for the larger radius discs.
This 12.5-inch Big Wave Brake Kit takes advantage of 320mm Galfer rotors utilizing the OE-fitted calipers on your Harley-Davidson. In addition, the all-in-one package includes Kraus 320mm Axial Caliper Mounts. This bolt-on package is simple and takes advantage of your stock calipers without the need to bleed your brake lines.
Brake Pads
A very simple brake upgrade is a set of aftermarket pads. Next time your OE brake pads are worn, opt for a more aggressive compound than the lousy stock replacements.
Galfer and Beringer offer replacement pads that fit your OE calipers but offer improved feel, power, and consistency through specially crafted ceramic compounds aimed at sporty riding.
Aftermarket Radial Calipers
The king of all braking upgrades is a set of radial-mounted monoblock calipers from industry-leading companies like Brembo and Beringer. These combine the sheer braking performance of a four-piston caliper with the added rigidity and stability of a radial-mounted system vs. the axial-mounted system traditionally found on American V-Twins.
What is a radial caliper mount, and how does it differ from an axial-mounted caliper? It's about how the brakes are mounted to the motorcycle's forks. A radial-mounted caliper is constructed with bolts that run parallel to the brake discs, while axial-mounted calipers are secured via bolts perpendicular to the discs.
Radial-mounted calipers offer better caliper-to-disc alignment and also more rigidity, which is key under the high stress of sheer braking force. Less caliper flex and pad-to-disc contact at maximum braking equals more stopping power.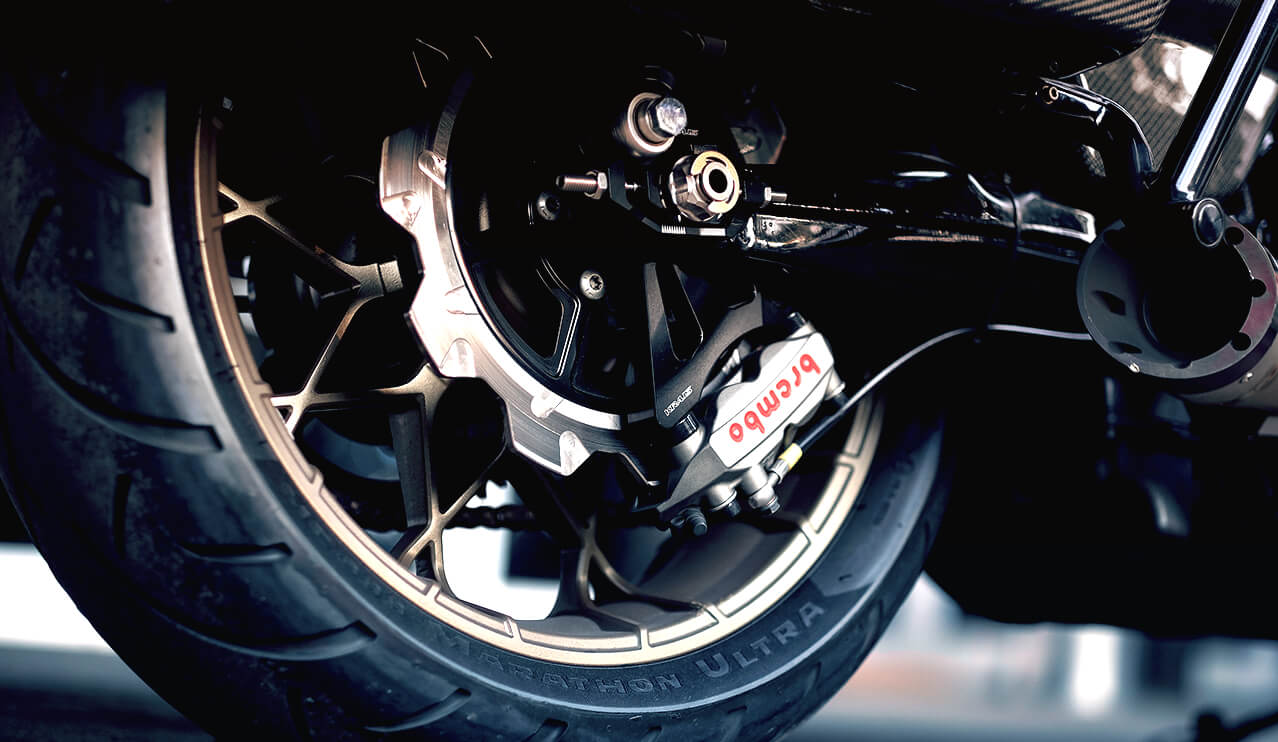 Radial Master Cylinders
The same technology applies to your brake master cylinder as well. If the master cylinder piston is parallel to the handlebar, it's an axial master cylinder. On the other hand, if the piston is perpendicular to the handlebar, it is a radial master cylinder.
While radial master cylinders like that offered by Beringer don't increase braking power, they give you better braking power through improved lever feel. Secondly, aftermarket systems like these often offer adjustable lever positions to match rider preference.
Put Some Respect on Your Brakes
There's no question that braking components on any motorcycle are absolutely vital, but that rings especially true of high-performance American V-Twins. Unfortunately, building a fire-breathing monster without proper stopping power is a problem waiting to happen.
Upgrade your brakes to truly get the best performance out of your build. Depending on your build style and focus, there are several options to improve braking performance, whether a simple pad swap or a full-on radial-mount monoblock caliper setup.
Besides, tipping over due to overzealous braking markers can be more costly than a few short upgrades, so don't wait.