The guide to a controlled and comfortable riding position
An excellent handling motorcycle begins with proper fitting ergonomics and body position, especially for a high-performance American V-Twin bagger.
Heaving an 800-plus pound Harley-Davidson or Indian through the twisties or around the racetrack requires a lot of physical exertion. And truthfully, the standard position of these tourers could be more conducive to an efficient and in-command stance needed to control the motorcycle confidently.
Control and confidence boost speed, but they also increase safety. That said, optimizing the fit of your bike is critical.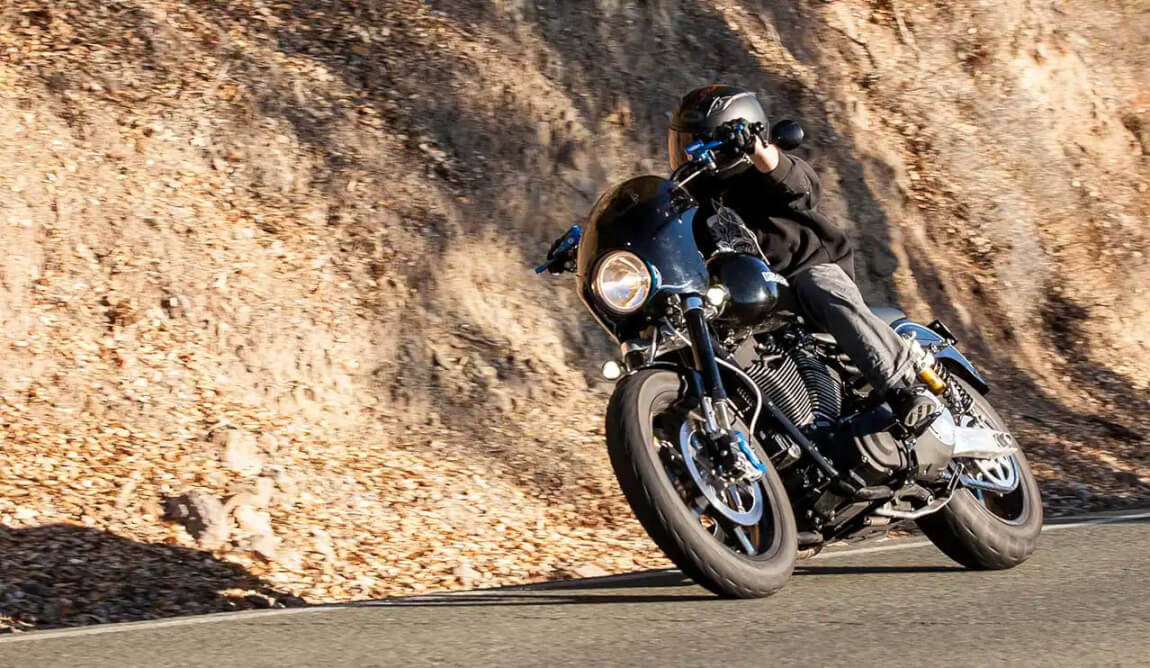 Why? Increasing leverage and achieving an athletic stance enhances bike control when needed most, improving maneuverability and chassis composure under load on the street, racetrack, and in unexpected circumstances.
This article will take an in-depth look at perfecting the rider triangle on your American V-Twin for absolute control, confidence, and comfort.
---
The Truth About Rider Control
---
First and foremost, perfecting the rider triangle of your Harley-Davidson or Indian bagger means achieving ultimate rider control. The slacked-out, lazy positioning of these motorcycles from their respective manufacturers do very little to allow the rider to pilot their bike confidently around corners.
Unfortunately, a long reach to the handlebars, forward foot controls, and a soft, cozy seat is built for cruising and not hammering.
The position that achieves the most control will allow you to tap into the true potential and capability of your motorcycle and your racing abilities. This means extracting every bit of performance and using your body as a tool or guide to maneuver through different tarmac sections. So how do we achieve greater control through our body position?
---
Perfecting Your Riding Position
---
In this subsection, we will dive into the core elements of ergonomic setup: handlebar position, foot controls, and saddle selection.
Foot/ Lower Body Controls
Dialing in the position and components of your lower-body controls may be the most effective route to maximizing bike control and can be argued as one of the most important. For example, the common OE position of floorboards does little to help steer or alter the trajectory of the motorcycle because of the relaxed, stretched-out positioning with little activation of leg muscles.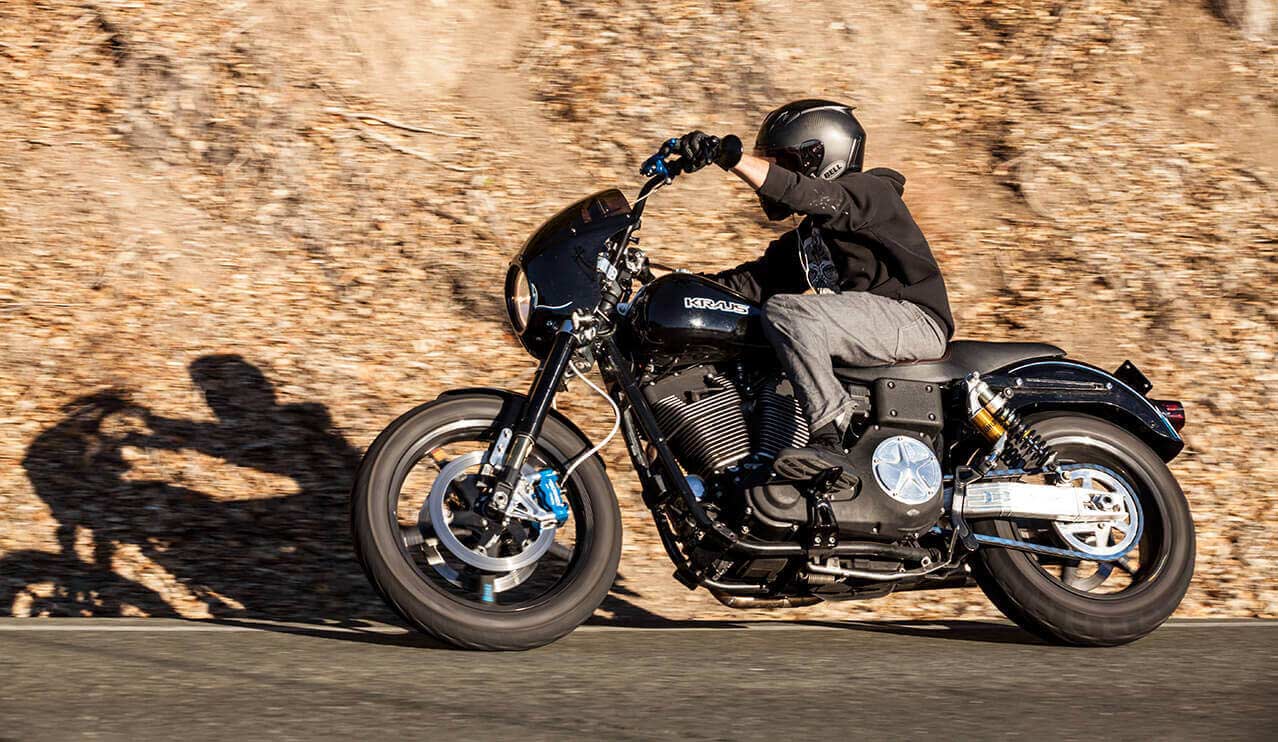 At Kraus, we firmly believe in achieving an in-command, athletic stance with lower-body controls. This position allows us to take full advantage of the strength of our leg muscles to leverage the motorcycle in and out of corners while reducing the amount of upper-body exertion.
Picture the ideal lower-body position as an athletic posture with the rider on the balls of their feet, just like an outfielder ready to spring for a flyball or the anticipation of a football player waiting for the play to start. This means positioning the foot pegs or floorboards in an up-and-back position relative to the OE placement, but very similar to the traditional sportbike.
What this athletic position will do is put the rider "in front of" rather than "in" or "behind" the motorcycle, allowing them to utilize their legs to hustle the bike underneath.
However, if the positioning is too tight, it will cause discomfort by cramping and taking away leg strength. The opposite is also true for positioning that is too spaced out. That's why configuring your rider triangle based on your size is crucial.
Finally, the up-and-back positioning requires increasing ground clearance while decking your bagger at a lean angle. In turn, you can enjoy higher speed and safety!
At Kraus, our favorite option for altering our V-Twins' lower-body stance with a set of new Harley floorboards, which maintain the traditional style and silhouette of the OE equipment while achieving a minimalistic look and improving ground clearance. These are often paired with the Apex SS3 Foot Control Kit, which provides a lightweight and rigid design that complements the floorboards.
Builders looking for a more race-inspired setup often consider a pair of road glide passenger pegs, eliminating the floorboards for the most aggressive positioning. This means superior control in all situations, but be prepared for the strong positioning that comes with it. Stretching is key!
Handlebar position
Increasing control and leverage via an aftermarket handlebar and more aggressive positioning will benefit any high-performance bagger.
Again, OE positioning needs to promote the control needed to hustle a V-twin through the twisties or racetrack. So instead, an elbows-up, motocross-style position is widely referred to as the staple of handlebar positioning, as seen throughout the MotoAmerica King of the Baggers and Bagger Racing League paddocks.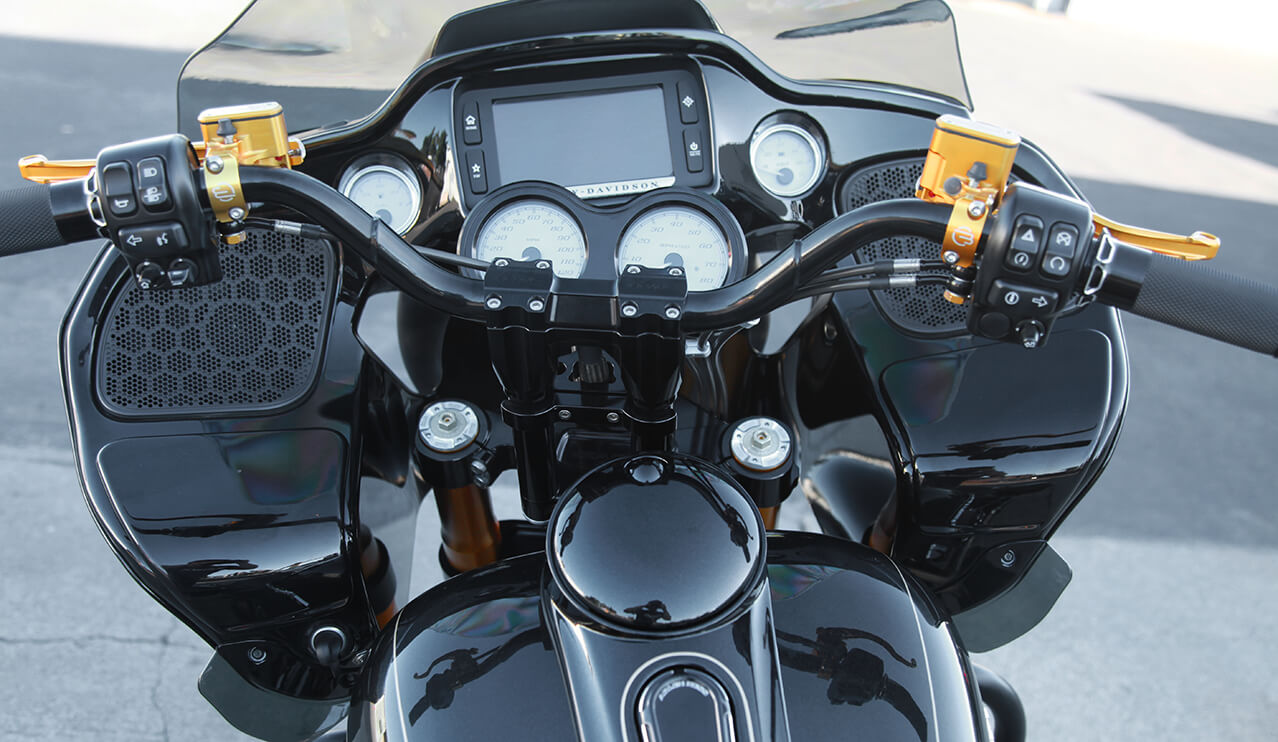 It's about sitting on the motorcycle with an in-command position and an aggressive stance for better control. Take note that being too aggressive isn't always the best. An overly aggressive reach with too much wrist pressure will create nagging sore spots and discomfort, while a long cockpit with a long distance will reduce your leverage.
That said, shorter riders or those with a shorter torso tend to look for a handlebar with more sweep back to minimize reach. Larger riders often want more handlebar rise, so they're not too cramped.
So what's the best choice? OE-style products like these ERG Moto Bars provide the ultimate fit through endless adjustability in bar sweep and angle. Buy one set of bars and never buy again. Tune and tailor until you've found the perfect fit.
The ODI V-Twin/ Moto Bars are another option. The elbow-up design proves critical in steadfast control and composure and achieves an actual race aesthetic.
Saddle Options
While upgrading your saddle may seem a bit mundane in the world of high-performance baggers, it holds a lot of value. Dialing in the shape and size of your saddle can drastically alter the riding position, especially for varying heights.
For example, shorter riders often prefer shallower saddles for a lower overall seat height, while taller riders require the opposite. This will also help dial in the seat-to-peg measurement ideal for your length of legs.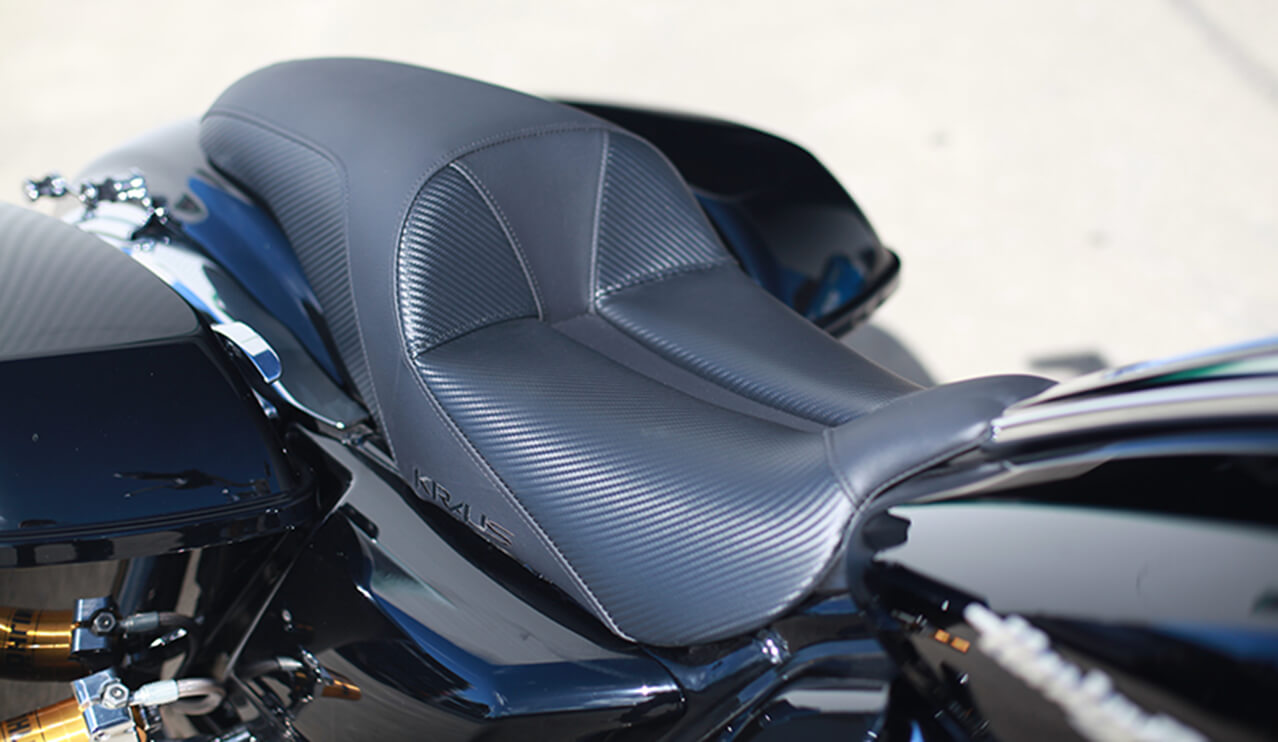 Secondly, the perks of aftermarket saddles is their shape. Flatter profiles achieve a sleek look, but others are designed with humps to support the rider under hard acceleration or deceleration, taking exertion away from the arms and legs.
The Kraus Moto Pro Series Seat, co-designed with Saddlemen, is just a single example.
Dialing in the fit of your high-performance bagger is critical to control and comfort. Remember, one size doesn't fit all. Take your time understanding what is best for your shape, size, and preference and for the build you're after.
Get aggressive with it and search for the ultimate in-command position. Your lap times will thank you.