Nov 29th 2022
Tips for the performance-minded bagger kit.
---
Look fast, go fast. Haven't you heard the saying?
The truth is, high-performance bagger builds are some of the coolest creations on two wheels. There's nothing more impressive than hurling an 800-plus pound American V-twin Harley or Indian bagger down Laguna Seca's iconic corkscrew, holding the throttle at the stop around the high banks of Daytona, or passing sportbike heroes on the backroads.
Performance aside, these baggers are as much works of art as they are asphalt-ripping machines. Look anywhere within the MotoAmerica and Bagger Racing League paddocks. What you'll see is a mass amount of exotic materials—carbon fiber, titanium, and more—on these Harley-Davidson and Indian motorcycles that attract drool-worthy attention for more reasons than one.
The ultimate high-performance bagger aesthetic is synonymous with actual performance attributes. Invest in your motorcycle for visuals and be rewarded with performance and vice versa. Although there are a few trick parts that are centered around looks.
At Kraus Moto, we've partnered with several premium companies, like DTF Performance and BST, that help complement our own Kraus Moto parts and accessories to deliver the best of both worlds.
Let's cover the basis of high-performance bagger aesthetics, the visual upgrades that equal performance, and more.
---
What is the ultimate high-performance look?
---
Imagine stripping down your Harley-Davidson Road Glide, then building it back up with only the necessities for performance and a serious amount of carbon fiber. That's what high-performance V-twins are all about.
Inherently, Harley-Davidson and Indian Motorcycle platforms are heavy—800-plus pounds heavy. It's not only a detriment to performance but also to visual appeal.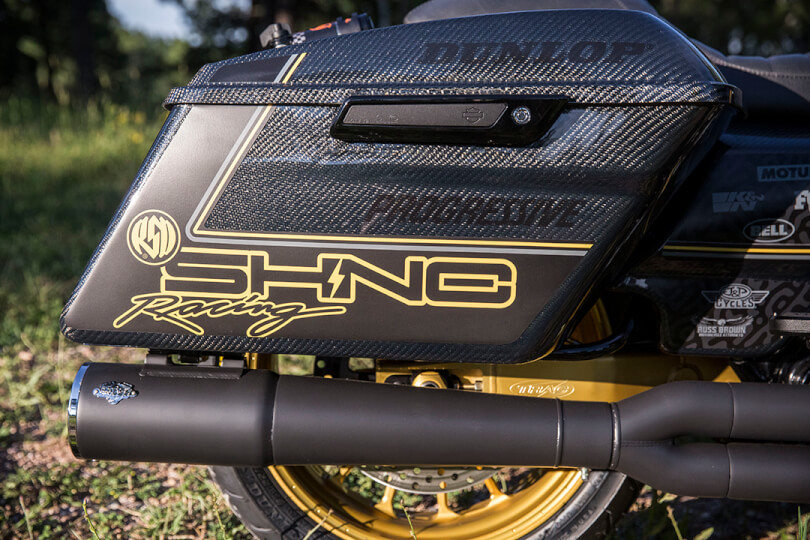 This is where a minimalistic approach can make a difference. Get rid of the unnecessary gizmos and gadgets, then get rid of the ridiculously heavy OEM parts, like body panels, wheels, and clunky floorboards.
---
Carbon fiber kills
---
Carbon fiber is the king of performance. Take a look at any elite motorsports machine around the world. It's surely decked out in serious amounts of composite.
What's the big deal about carbon fiber? Carbon has a density that's roughly half the amount of aluminum while being five times less than steel. Plus, it's stronger than both, depending on the application.
Not to mention, a raw carbon weave in the right sunlight will catch any eye.
Carbon fiber composite bodywork from DTF Performance to replace the bulky OEM components. This includes an entire, one-piece front fairing, front fender, and sleek yet functional saddlebags.
Not only will the new look transform your ride, but it will shed tens of pounds from your ride, meaning better performance. Plus, it's a blank canvas for the racing-inspired paint scheme.
Other small parts, like carbon-fiber molded dash covers, fit the stock and center-fill fuel tank of your Road Glide or Street Glide for a trick but not-so-expensive performance touch.
---
In-command yet minimalistic ergonomics make the difference
---
An aggressive ergonomic triangle can seriously alter the appearance of your bagger too. There isn't one high-performance V-twin enthusiast that thinks the slouched, almost laid-back OEM riding position is the right way to go. It's about being in command.
There's a lot of advantages to dialing in the ergonomics of your performance bagger, including increased bike control, improved ground clearance, and reduced physical exertion while hammering. And, of course, improved aesthetics.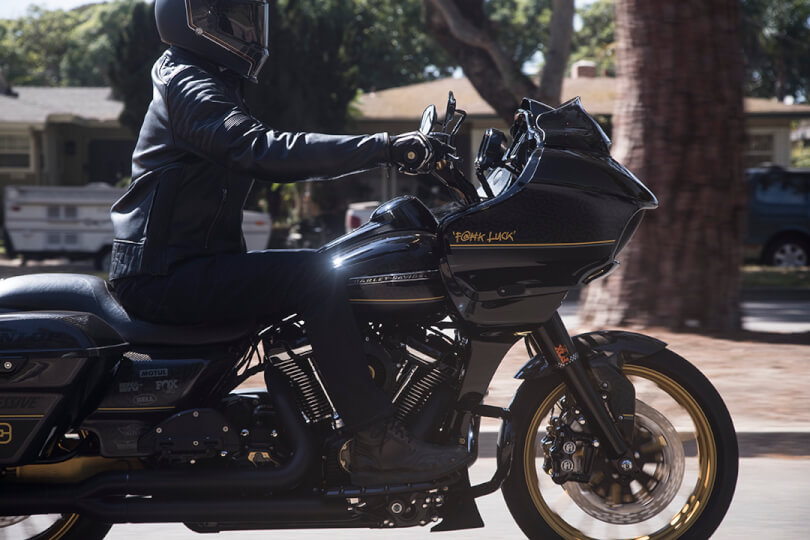 For instance, the popular Kraus Wolf-One kit for Road Glides blends the aggressive ergonomics of a moto-style handlebar with vibration-isolated risers and a stylistic billet aluminum triple tree that together provide a solid feel to your front end while achieving a clean and classy look.
Minimalistic components like the Kraus Erg One Mini Boards are built to physically and visually lighten the appearance of your V-twin, replacing the OE-fitted boards with a sharper, more aggressive design. The Apex Edge Foot Peg takes it a step further, eliminating a board while achieving an even more athletic stance and more ground clearance.
Mount up the ODI V-twin/ Moto Bars or adjustable Erg Moto Bars for an attractive, elbows-up riding position with maximum leverage and control. Speed is always alluring.
---
The wow factor of a wheelset
---
Reaping the huge benefits of aftermarket wheels is critical to a high-performance V-twin build. Seriously, it can't be missed. The big points? Reduced rotational mass for more agile handling and precision, plus the availability of performance-minded, even full racing tires that fit the aftermarket sizing.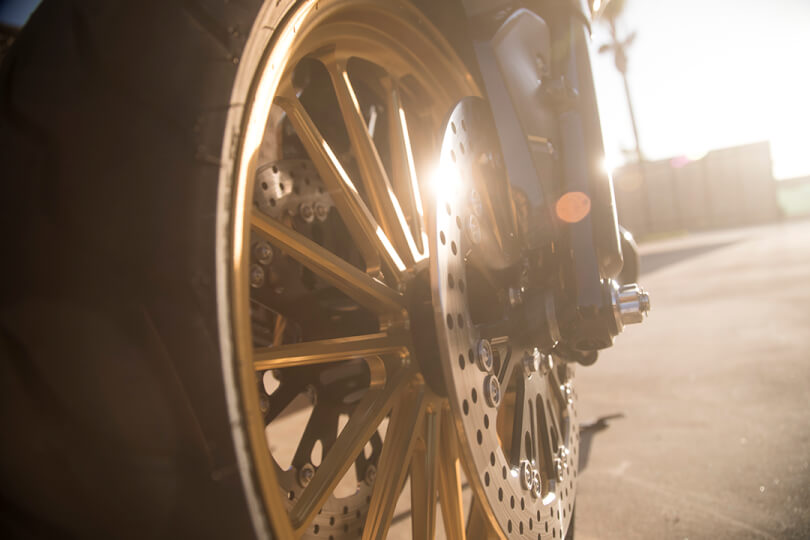 To follow up on the second point, most performance builds, especially those built for the racetrack, utilize 17-inch wheelsets. The low-profile stance of these 5-spoke wheels is aggressive and lets everyone know you're here for smashing apexes.
Companies like BST have created carbon-fiber wheelsets that are compatible with your American V-twin (with some retrofitting required) in various colors and weave options to further dial in the appearance.
---
Adding in the accessories
---
Of course, the V-twin market has thousands of aftermarket accessories to tailor the appearance of your ride to your liking. Some have a function, some do not, but ultimately it's about falling in love with the machine every time you look at it.
Kraus has built the Pro-Line Slider Derby Cover for both Twin Cam, and Milwaukee-Eight powered models that both protect and enhance the look of your motorcycle. The Pro-Line series features Delrin Slider at the base of the cover that protects your primary from scraping the asphalt at high lean angles.
Other options, like the Kraus Pro-Line Gas Door and Tank Cover, tie together a clean cockpit and are available in anodized black or machine finishes to mesh with any style of build.
The beauty of any custom motorcycle build is utilizing a blank canvas to achieve the performance and aesthetics of your demands and dreams. Lucky for the high-performance bagger scene, most desired visual upgrades improve performance and vice versa by shedding weight, improving handling characteristics, and more.
Go after your dream aesthetic and enjoy the benefits that come with it.