Nov 1st 2016
The raw metal bronze finish of the frame will change, darken and naturally patina with life. The raw aluminum sheet metal will take on different shades as it oxidizes as the owner re-cleans and re-polishes it. The weld joints in the stainless parts will change color with time. Dirt and oil will find its way in and live in those hard to clean places. Achuma was built with the intention that age would set in. That the battle scars of real road use would take their place and give spirit to the machine. Achuma will never be the same, always slightly changing. The key is that with these changes the owner holds an experience and memory. It is why someone chooses to have Kraus Motor Co. build them a machine like Achuma. Just for the experience.
---
Named after a South American cactus known for its hallucinogenic properties, "Achuma" is part old Harley and part motocrosser, a Shovelhead-powered streetfighter that's got a style all its own. There's even a built-in skidplate for inner-city curb jumping! "Yeah, I don't look too hard at what everybody else is doing," builder Satya Kraus says about his styling influences.
The 35-year-old was born and still lives in the shadows of Northern California's mighty redwoods. A fairly ordinary early career path led to a computer company gig, but working with his hands, making things he could actually hold and feel called out, and in 2004 Satya chucked it all to build choppers. Ink, awards and bike commissions soon followed, but a rigid frame's limitations bothered him.
Kraus grew up riding dirtbikes and appreciated the spine-friendly benefits of a working rear suspension. "I wanted something with a racier look and feel, a real 'roadable' machine," he says.
A collection of old engineering books substituted for formal training, helped by curiosity, trial-and-error, learning from elders and a good dose of common sense. "As far as fabrication and welding and machining and all that stuff, that's all self-taught. I never went to school for it," he says.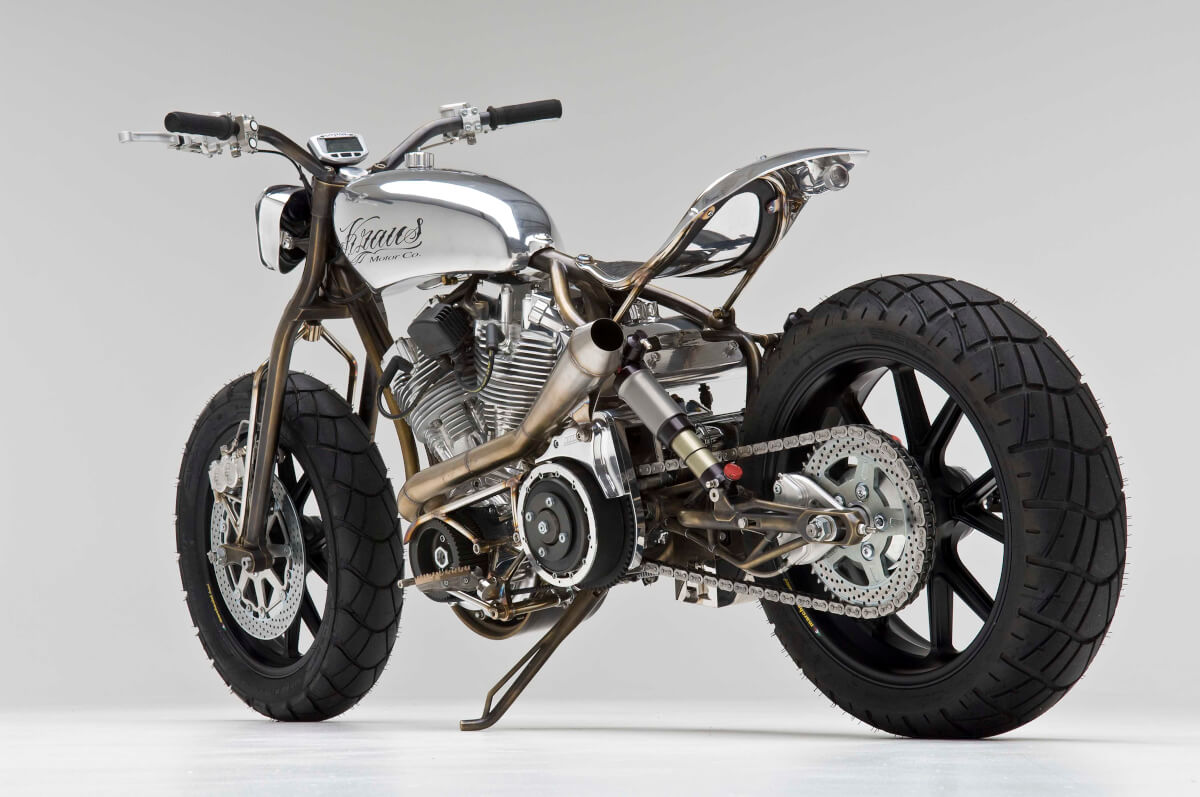 Chief in Kraus' build philosophy is light weight. "I think people tend to overbuild things, to use a lot of metal because they don't know how much or how little it really takes," he explains. "They're adding needless weight, and then suspension, speed and quickness suffer."
Paint doesn't tip the scales very heavily, but you won't find a drop of it on Achuma. It is a full-metal motorcycle. "Me and paint don't mix," Kraus states. "I never learned to paint; besides, it's the first thing that goes. Paint never looks good once it gets hammered on, so I've developed a style that doesn't have that issue."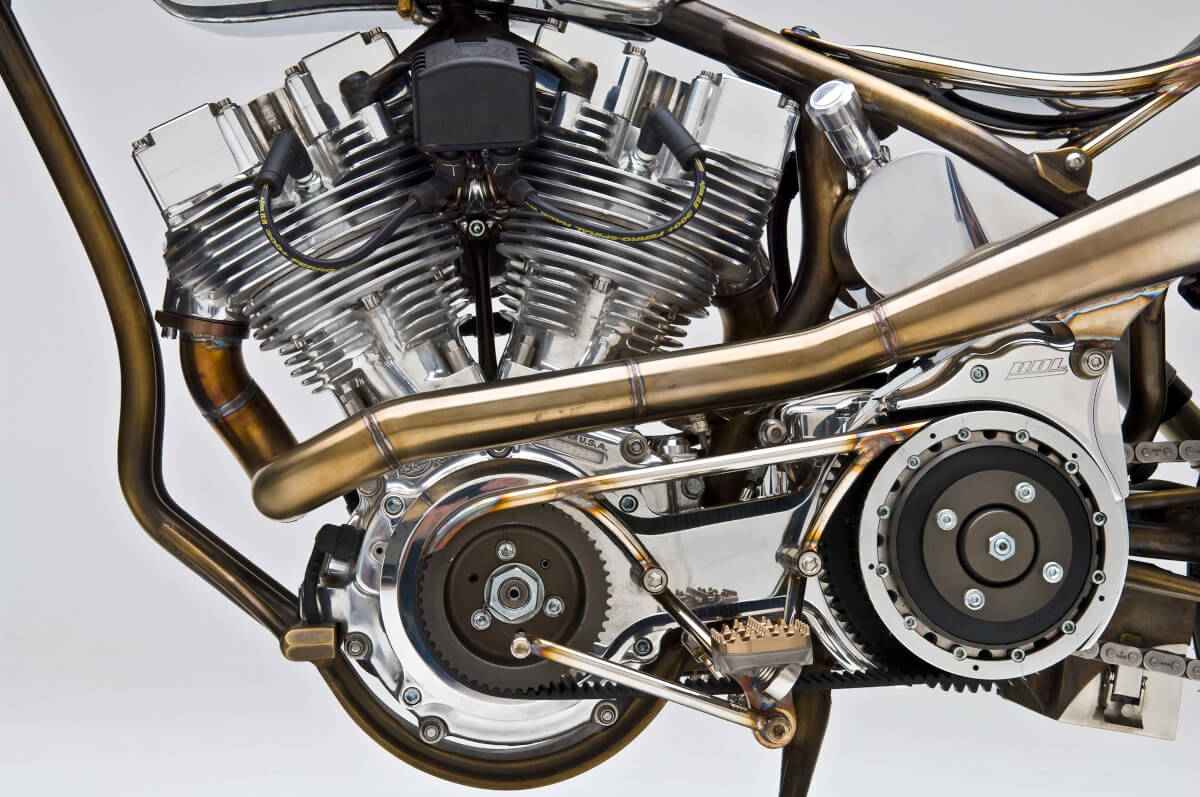 Not even the frame is painted. Rather it's been plasma-arc sprayed with a thin coat of real bronze, a nice complement to bike's shinier componentry. "There's just something to bronze," says Kraus. "When you actually get close up, get your hands on it, touch it and feel the difference between paint and a real-metal finish, that's what really gets you…when you see the perfect imperfection of it."
The forks are Kraus' take on a traditional springer, brought up to date with a cleaned-up design and a Foes Racing air shock. The latter was originally intended for downhill bicycle racing where heavy-duty mountain bikes plummet down trails at up to 60 mph, getting huge air in the process. Here, it's more than up to the task and is set up to yield 3 inches of travel. The twin-shock swingarm, braced and running a pair of Foes dampers, gives about 5.8 inches.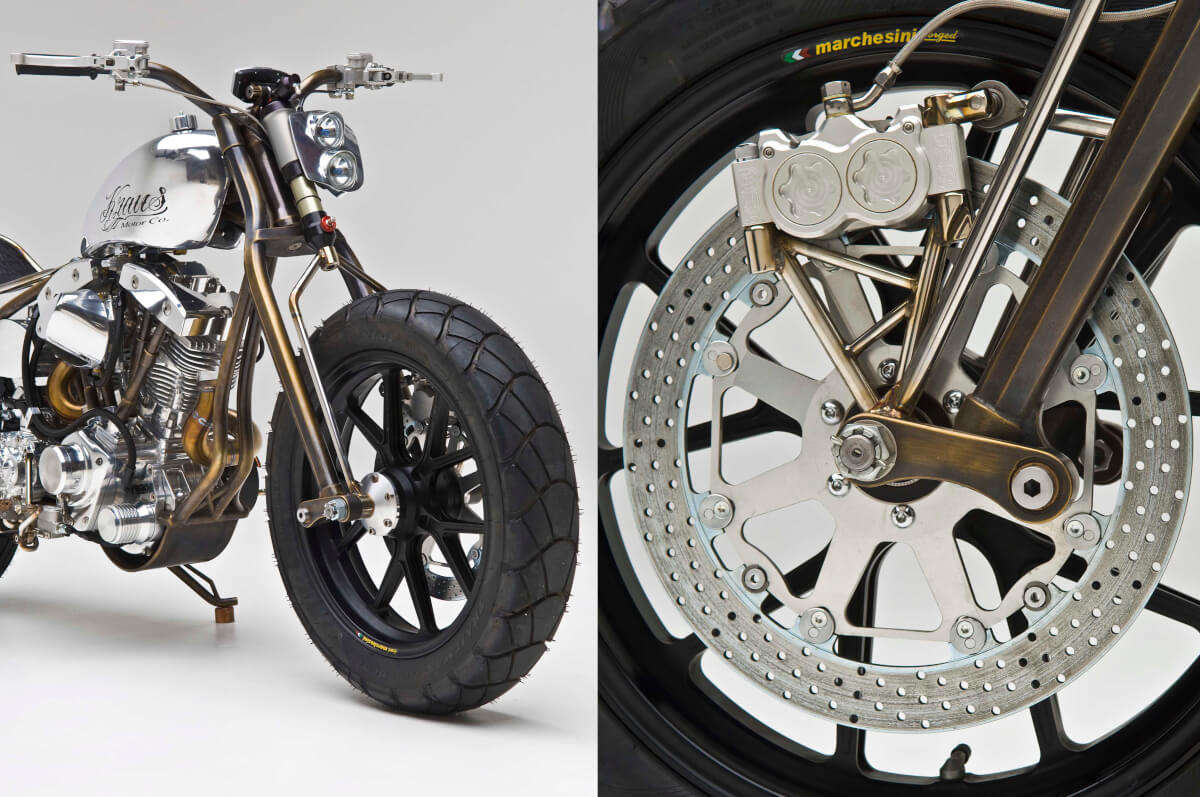 To power this machine, Satya went with an S&S Shovelhead 93-inch high-compression motor. At about 90 hp, he feels it provides plenty of power for the weight and also gives a nice look, especially after the three-man crew at Kraus Motor Co. takes it apart, shapes some of the fins, smoothes down casting lines, and polishes the cases and covers.
Safe to say the bike's owner, a 30-something member of England's banking community who prefers to remain anonymous, is happy with his purchase.
Kraus reports there's a touch of hooligan beneath the man's tailored three-piece suits, an inner brat brought out when Achuma blasts along the proper avenues of London's financial district. He's even planning on taking it out to track days. Says Satya, "He's using this bike the way it was intended and this to me is the best honor."
Photography by Mike Chase. Author: David Edwards, Bike Exif